Just got 14 plus as a gift for mother in law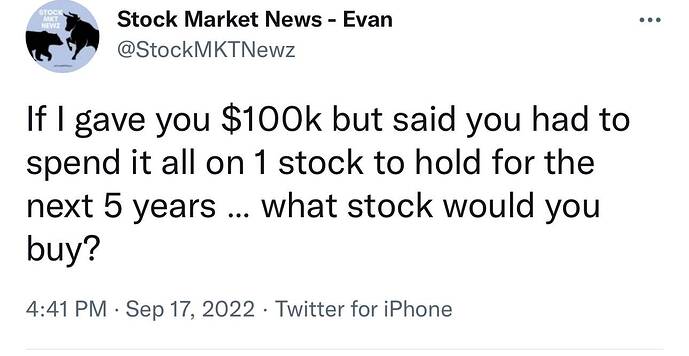 A popular question (many variants).
Won't lose your pants: AAPL
Possible double or more: TSLA
Potential 10-100 baggers: any high growth stocks but bear in mind, you can lose all your $
Not a realistic question. Nobody with only $100k will spend it all on one stock. However, a multi-millionaire might do that.
The longer @manch waits, the longer he has to wait

This proves that a company can be very good at business execution but horrible in investing. Great investors are not necessarily good entrepreneurs or even good at doing business at all. It's a different kind of skill set.
There are major lawsuits & disputes between AAPL and MSFT on patent rights…etc, resulted selling stocks.
This is biased opinion of some junk analysts who just see current valuation and talk as if he is genius to invest 20 !
The same way such junk analysts quote BRK vs S&P etc without even knowing 0.1% knowledge about how to invest big billions !

So…
…supplier Han Hai has already been ordered to shift some of its iPhone 14 production to the Pro models.
Envy of Apple success, one growth investor who didn't own AAPL tweets…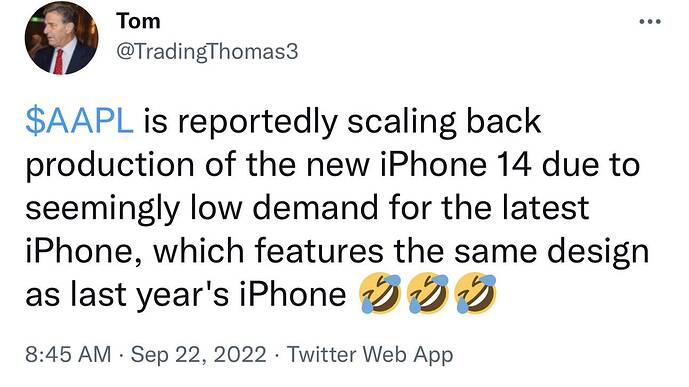 Historically Sep is weak month for AAPL. Surprisingly still perform better than S&P and other tech stocks.
WS is having hard time crashing AAPL and TSLA. Too much support from retail investors and so far product sale doesn't seem affect by inflation or impending recession.
.
AirPods Pro. Bass sound good. Could be new toilet effect

Apple Watch. I think I have chosen the wrong band

need a new band.
iPhone 14 Pro Max. Heavy

The Apple VR and AR headset is one of those products that's perpetually rumored, but never seems to materialize.

We've read reports that suggest that Apple's AR/VR headset could cost as high as $3,000, whereas other reports suggest a device that's "several thousand dollars."
More interested in Apple Glass

The US-based company started manufacturing iPhones in India in 2017 with iPhone SE. Today, Apple manufactures some of its most advanced iPhones in the country including iPhone SE, iPhone 12, iPhone 13 and, now, iPhone 14. In a statement to PTI, Apple said "We're excited to be manufacturing iPhone 14 in India.
Diversifying manufacturing locations. Btw…
Analysts at J.P.Morgan expect Apple to move about 5% of iPhone 14 production from late 2022 to India, which is the world's second-biggest smartphone market after China.
In 2021, Android held a share of 95.84 percent of the mobile operating system market in India. This was followed by Apple's iOS, a distant second, with 3.1 percent market share.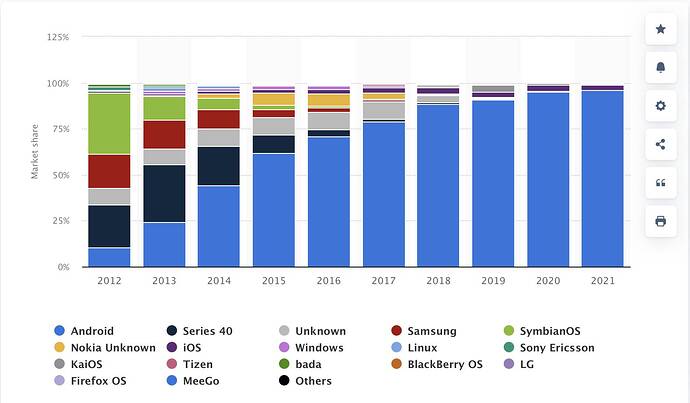 It is all again same Foxconn manufacturing units, it is basically to avoid 25% Trump duty from China manufacturing that shifted jobs to India, Taiwan and south Korea…etc. Additional benefits include very cheap labor cost, all started momentum when Trump signed 25% tariff.
That is US companies, whatever may be the law they will comply, they will find another better way to survive the game of politics.
.
Businesses care about making money. Don't side with any politics, religion or race. Only the rich and tech savvy Indians buy iPhones, most Indians can't afford one.
Moving manufacturing unit was not aimed at marketing within India, but to avoid Trump duty ! It is a cost reduction issue for AAPL while placing orders to Foxconn.
.
How do you know the intent is not one stone two birds? An obvious target and a hidden target. Politics in India is quite messy and Indians are fairly militant, not conducive to have to a big presence there. There is a cost consideration too… I recall (too lazy to verify) import tax is fairly high in India. If not for the hidden target, I think there are other more suitable places.
Local production in India has helped the iPhone maker reduce tax burden and allow manufacturing partners to leverage the subsidiaries for producing new iPhone models in the country.
The CyberMedia report also showed which iPhone models performed best in the country in Q1 2022… The report said that overall, all iPhone models in the country marked a 22 percent year-on-year growth in the first quarter.
Diversifying locations is a matter of when, Trump provides the catalyst (East Wind).