While some remark on the irony that since TX does not allow direct sales of Teslas (thanks to the TX retail car lobby) why would Tesla build a plant here? Others suggest they are sure that TX will allow direct sales once a plant is built in state, but other counter that the TX legislature is out for awhile and there is no guarantee that they will approve this … even if Tesla was building cars in state. I suggest that business economics of Tesla are so good in TX that it makes sense to build here even if direct sales are not allowed. Big spaces allow for lower cost land for teh factory and the new communities that will pop-up nearly. Right to work and low cost of living keeps labor costs reasonable. TX has a net inflow of people who like the low taxes and low cost of living. Austin is a nice city and not a tornado risky as Tulsa. The state electric grid is nearly 1/2 wind powered which is a nice environmental claim … and a good place for solar.
And it really sticks it to CA politicians … since TX has captured a lot of former CA biz and CA workers.
In Williamson County, the year-over-year increase is 6.6 percent.
Not good since property tax is tied to property prices and can't increase rent because of coronavirus. Cap rate declines

"Homes are selling quicker than they have compared to last year and also for more money," said Manzanilla.
Not good since I am still not done accumulating rental houses.
"Maybe their home is too small, because now they have not just their living areas but their work areas. I think this pandemic has caused a lot of homeowners to reevaluate whether their home still works for them," said Manzanilla.
Luckily most of my rentals are fairly large. 4/3.5/2 with media and study rooms. Some have man's den and mud room

You probably need to pay more property tax to fund Elon's multi billion subsidy. Hurray!

Old article. Grimes is a musician right?
Austin is …

Getting billions of government subsidy of course makes sense for the con man.
I doubt he is getting that much. If Austin didn't want to give to the bald man, why give to him? If he is getting what he desired, he won't be throwing in Tulsa as a finalist. OTOH Austin may not be in as good shape as before because of coronavirus, many big events such as SXSW were shutdown. Also the state government may be pressuring Austin to accept because of collapse of oil + coronavirus.
How much did your county hike your property assessment last year? Someone needs to pay for the roads and schools for the 10s of thousands of Tesla factory workers, who won't pay any income tax. How will the math work out?
This year county hardly change assessment

because of angry residents complaining about the past few years of huge hikes.
AFAIK, there are many new schools in construction

in Hutto. Why need new roads? Tesla has to pay for their own private roads and any new roads expansion which I don't think is necessary, Highway 79 is fairly wide.
I thought there won't be any in-person meetings in the future because of Covid? Secular trend right? Why build hotels?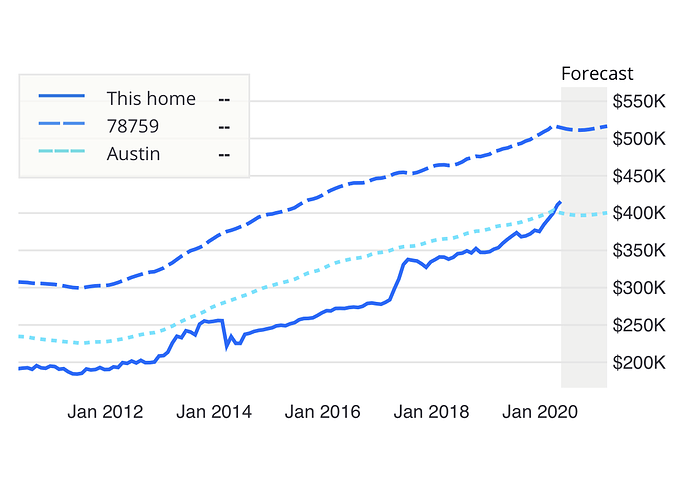 Similar to 78727, price in 78759 doubles since 2012

78727 and 78759 benefit from the opening of Apple Campuses and rise of The Domain.
Apple campus at Riata, 78727
announced in 2012, open in 2016
Apple campus at Dallas dr, 78729
announced in 2018, plan to open in 2022
The Domain, 78758
announced in 2003, open in 2007, still in construction
The fact that Austin is being discussed vigorously in Bay Area RE forum tells a lot.
How big are these campuses in relation to the Apple Park (the spaceship ) in Cupertino that is meant to hold 15000 people.
You do not need big campuses and this many campuses just to do sales and support. Something else is cooking. What is it?
Do you know how big these campuses are and what kind of work will be performed here?
Austin is being pushed by one person here.
Plenty of other alternatives
Boise has Micron, Salt Lake City, Vegas. Reno. Seattle, SoCal. Literally hundreds of alternatives to Austin.
The technology companies are only concentrated in a few cities. Besides SV, those are Seattle, Boston, Austin, Chandler etc. Nashville is another emerging location but not for technology business. I know someone who sold lot of bay area real estate to buy in Nashville. What is there in Tennessee anyway that is attracting so much attention?
NYC, North Carolina, Dallas, Houston, Chicago. Pittsburgh. Plenty of cities that have some tech. Sacramento is as big as Austin and has Intel and other big tech companies. If tech gets decentralized it will go everywhere
Forum for tech professionals who have keen interest in RE

I used to live in SV, moved to greater Austin last year.
7 growing tech hubs in USA (in addition to SV),
https://builtin.com/tech-hubs
Austin
Boston
Chicago
Denver
LA
NYC
Seattle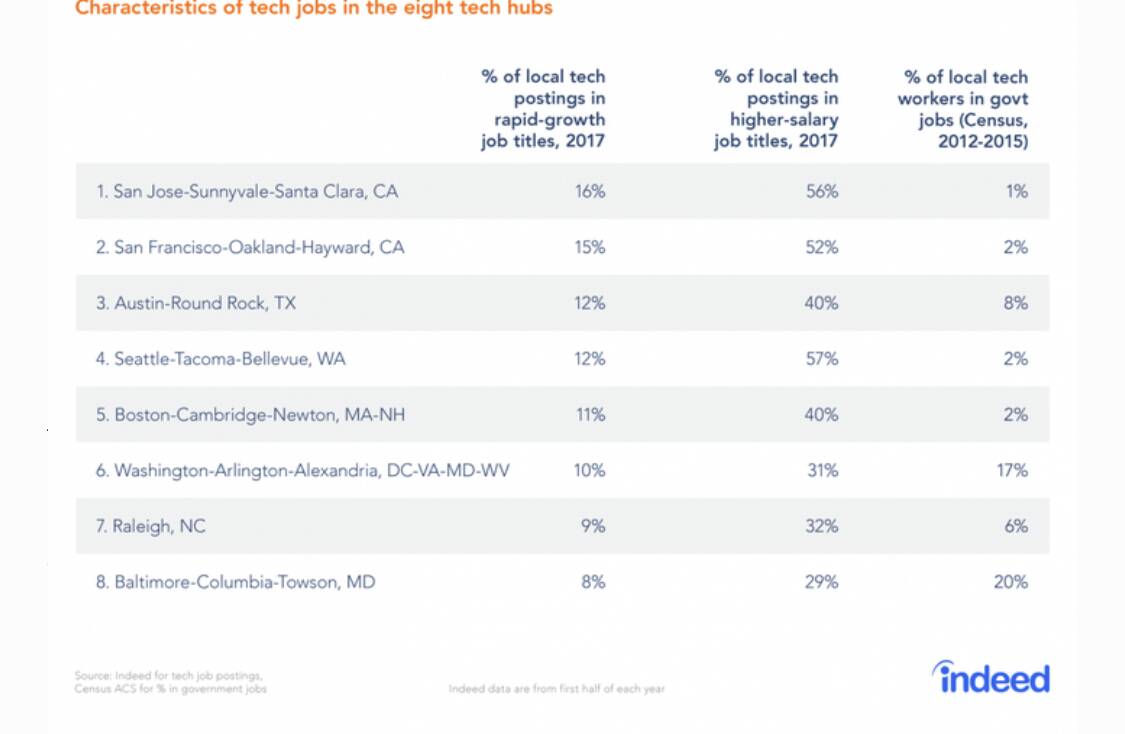 More info to make @manch and @elt1 eyes turn green in envy.
https://www.bizjournals.com/austin/news/2019/10/22/housing-boom-the-austin-neighborhoods-that-deliver.html
ZIP code 78758, tucked between MoPac Expressway and I-35 in North Austin, has seen the second-biggest jump in home prices in the past decade: a 117% increase. It was the only other Austin ZIP code to see the median home price double from 2009 to 2019.
78727 and 78759 are adjacent to 78758, double shortly after too

There doesn't appear to be an end in sight to the housing boom, as a closely watched report from PricewaterhouseCoopers and Urban Land Institute recently listed Austin as the top city in the country for real estate investment in 2020.
Still booming

Late to the market?
"It's going to be the suburb areas where the price point is between $250,000 and $400,000," Watters said. "That's Cedar Park and Leander, Round Rock and Georgetown."