I calculated the Case Shiller index compound annual growth rate for different metros. Surprise! SF is not Number 1.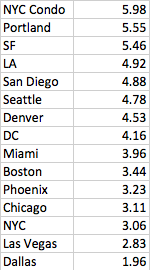 NYC houses suck, but NYC condo leads the nation. Maybe SF is heading the same direction. Condos/THs will appreciate better than SFH?

Portland beats SF. But we still beat SoCal by a mile. Dallas sucks.