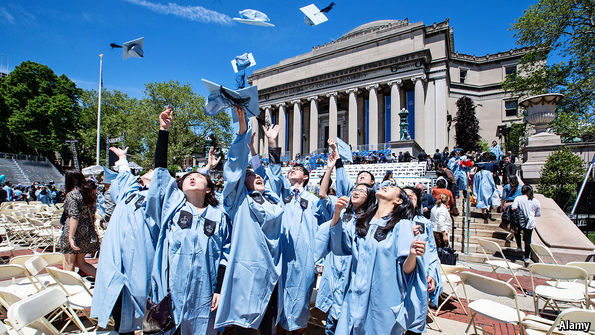 EVERYONE knows that Chinese students are flooding American campuses. Less widely known is that their mothers are coming, too. Last year 394,669 pupils from China were studying at American universities, secondary and primary schools, the largest contingent of all international students. Increasingly their parents are moving in with them, buying local properties or investing at least $500,000 in businesses to try to qualify for a green card.
The tiger mums usually come to America alone, leaving their husbands behind. "When I wasn't here, my son would survive on instant noodles and energy drinks for several days without eating fruit or vegetables," says Wenxue Hu, mother of a masters student studying applied mathematics at the University of Pennsylvania. She gave up her job as a corporate finance director in Shenzhen to cook for him in Philadelphia. Through a local church she met other Chinese tiger mums, most of whom entered with a tourist visa that allows them to stay up to six months each time. New Haven, Connecticut now boasts a "Yale Chinese grandparents' village", with 15 residents. The old folk live under the same roof as their children, mostly PhD and post-doctoral students at Yale who are too busy to take care of their own offspring.
What's wrong with these brats? Moms have to quit their jobs to cook for them?? Weak sauce.