Guys and gals, what should we make of this listing?
Just normal PA price? Or seller being delusional?
https://www.redfin.com/CA/Palo-Alto/3461-Rambow-Dr-94306/home/598187

How about this one in Burlingame? Sold half price???
https://www.redfin.com/CA/Burlingame/1422-Montero-Ave-94010/home/1855333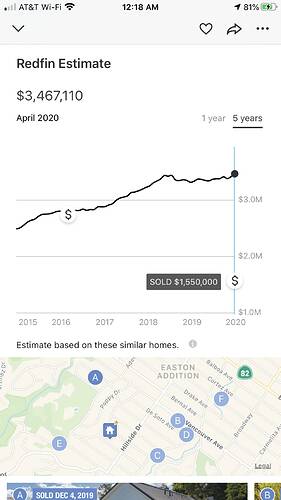 Ha ha, mystery is solved. It was a typo and Redfin just fixed it.
It is a good news and the sky is not falling

.
Sounds strange. I have been under the impression the numbers and the property data are pulled automatically from MLS or IDX exchange.
Did entry mistake happen at local MLS
Sold with 2.375M, higher than my estimate, but lower than the list price.
If Redfin estimate is to be believed, price has been flat for the last 2 years. Similar pattern everywhere in prime bay area it seems.
Still that's over 2.5k a foot…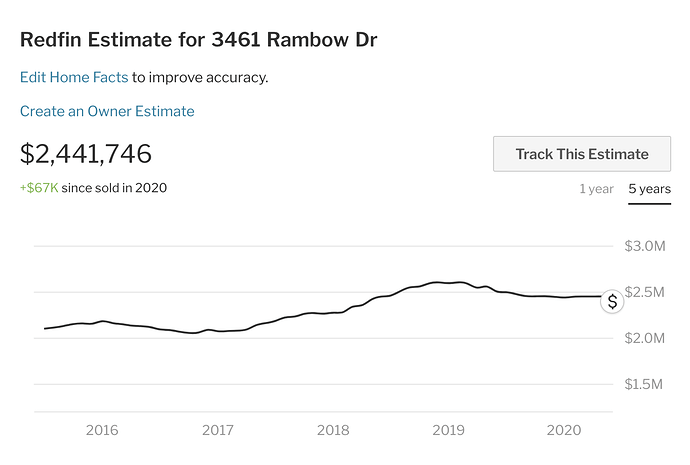 Redfin has a TV commercial that Seattle is up 5% vs last year.
You live in a well or under a rock

That's almost tear down price. There was a house near by with plan approved sold for 2.3M fall 2019. Probably 1700 / sqft is average price there.
What's Hutto famous for? Rundown houses at dirt cheap price? Never heard of it.
I think @hanera is referring to future Tesla factory - Hutto is suburb of Austin.
Well at least there are 20 strip clubs nearby.
Now I get why Elon likes Austin so much…

BA people are buying in Tahoe. Talked to two BA refugee potential tenants today. BA jobs and plan on working at home in Tahoe.
I have waited 7 years and it looks like BA money might start flooding in. We have 110 houses for sale in SLT, normal is 250. If a hundred buyers show up prices will skyrocket. And I will be selling.
$800k gets you a modest waterfront in the Keys.
It will be $1m next year. I have one I bought for $475k in 2013. At 1m I am selling
There's really no such thing as a starter home in the Bay Area, and we ruled out buying anything here a long time ago," Hutchison says. "What I really like about Tahoe is that there's starter home potential, and we're looking for something older that we could fix up that's as low as $300,000 and at the high end of $500,000 to 600,000."
For $600k you get a total Keys fixer on the water, or a ten year old real nice 4/3 in a great neighborhood.
$300k will only get a 1000sf 3/1 tear down shack.