Please Recommend some flip candidates ( remodels /additions ) in South Bay or mid peninsula
Um… wouldn't people just go for it if it really were a good deal? Why recommend and give a gold mine away to someone else?
The 4.5m lot in Old Palo Alto seems like a good flip candidate.

Sink in another $1m to build a new house, then sell for $7m?
It's a bad candidate for a flip. The planning process will take too long.
Remodel and additions can be done much faster.
You are joking if you think you can build a house for 1M over here theee days
Yes …looking for remodels and Additons . I have few ground up permits which are taking forever to come and thus need easier ones
I was semi-joking. I am not a builder, but I know some people flipping in Palo Alto. I think they are building new custom homes for under 1 mil (above grade only, no basement), but I am not sure.
I'd imagine if you make a GC do everything then 1 mil is hard. You have to do some coordination/management work yourself. The key is to find the right balance.
Why are you so hungry for flipping? I think the golden years of flipping has passed and the market is not appreciating much.
Maybe the best thing to do now is to relax and take a break.
I need to continue to run my payroll for my employees.
Fire them and go relax on a beach somewhere for the rest of your life.
If you got $4.5m cash for a tear down why be cheap for new construction? Go for the $1000/SF trophy home. Name architects and top of the line builder. Showing off is meant to be expensive. Go big or go home.
I thought this was going to be about politics…
Looks like you can do a quick pig-on-lipstick flip and sell for 1.2 or 1.3. If you expand it to over 2k feet you can shoot for 1.7 or 1.8?
This is one of the place, normally builders bid such homes, look at it and see whether it is workable for you
Go and visit the streets in person and see how builders flipped them near by.
Offer due in 3 days.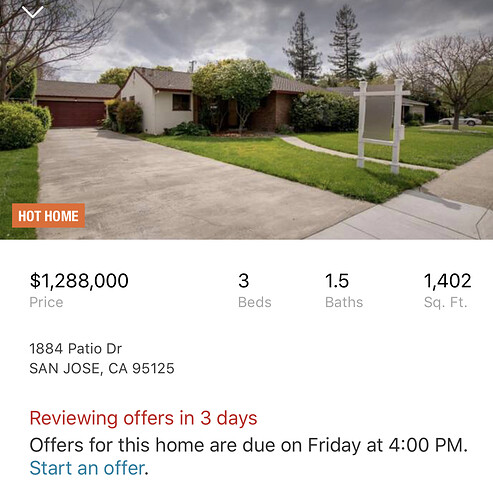 @Jil this would be good if it were to be in Booksin elementary boundaries .
wow 1901 they flip so fast less than one year for over 4000sf