Apparently we are a materialistic bunch according to @wuqijun. Here's a fun one:
Only top performing analysts get promoted to consultant. If you are mediocre you have to get your promotion through the MBA route. If you are money driven it's better to go the investment banking route and eventually break into private equity.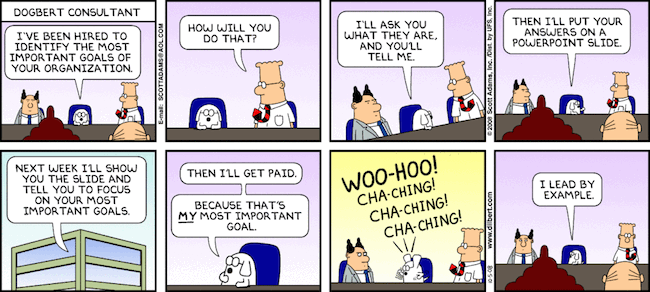 Ok. Now does it pay more to be a partner or better to flip houses?

Also, I only said that you are materialistic. Why you try to drag everybody down. Just because you are doesn't mean other people are like that too.

Most organizations get strategic consultants to say what the top management wants. Usually because of some very unpopular changes.
For technology implementation, management gets consultants when they feel his people can't do the work or the risk of failure is too high and not worth risking their career. Big consultants have large global network where they can draw the right guys to get the job done efficiently, if not, they not management get the stick