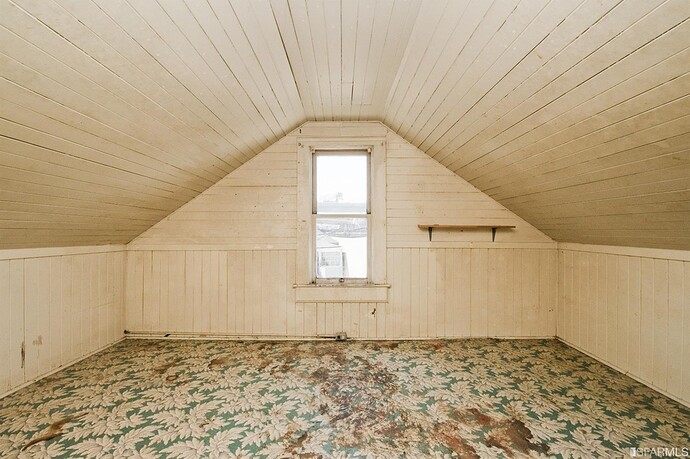 This house doesn't give me the right vibe…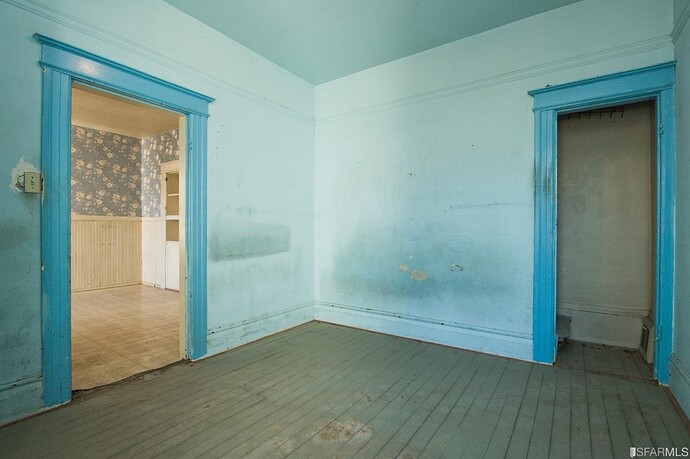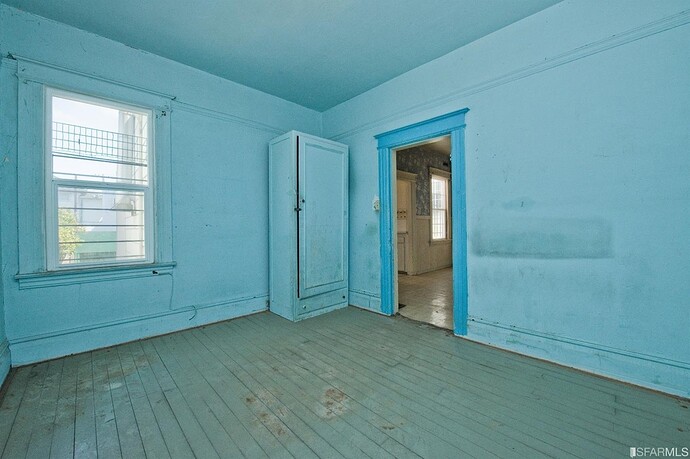 Go check it out in broad daylight is probably OK. Cheap though.
https://www.redfin.com/CA/San-Francisco/253-Charter-Oak-Ave-94124/home/751696
Hey @manch, maybe I'll see you there at the Sunday open house. I have a BBQ and poker game nearby after…
The freeway noise would scare me off more than the bld stain. House should be taken down to the studs & rebuilt anyhow.
Nahhhh. can't be blood without caution tape.
Maybe… excrement…
coffee
chocolate
baby playing with paint
Speaking of which… need to clean my carpets!
My bet is either dog urine or leaky roof.
Went by there pretty much at opening time. Mind you this holiday weekend has always been considered the summer finale, yet there were a lot of people there waiting before the open house. Mostly Asian (ok, Chinese).
Very astute, @MM_HH. While the house is about a block or so away from the raised freeway, you def do hear the cars from the freeway when outside. Inside, with good insulated windows that should not be a problem. Area is pretty convenient to freeways going both north and south but the area is still rough.
If you wanted a true fixer, this would be it. Boy, don't let the front exterior fool you. One needs to gut out everything. There is nothing in this house worth saving.
Offers to be presented 9/12. It will be interesting as to what this goes for and def a good indicator of the SF 1M and under market. Will some crazy buyer still go way higher to get this "gem" or will everyone agree that this is not worth it even at the 629K asking? This shouldn't go north of 700K but again this is the fab 7x7…
Strange, again, offer date on the flyer says September 12. A fool and his/her money is soon parted… I like fixers as much as the next person. This aint one. For all the work you will need to do to this place you mind as well buy something else and in a better location.
I followed up on this and apparently it was an all cash offer that was presented and accepted by the owner. It will be interesting how much it was since the owner couldn't even wait to see what others will offer you on your designated date of just one week later??? Probably figured I got this sucker to bite, better take it and exit stage left pronto…
Maybe the SF market is still hotter than we think in the 1M and under crowd cuz this one was a POS in every possible way. Nothing is usable beyond the front facade and let's be honest the neighborhood is still marginal at best and the overhead sound/exhaust pollution from the nearby freeway is a legitimate concern. I guess if you plan to never open your triple paned windows and have the best dog gone security system (since you are now THE best house for blocks will surely garner attention that you don't want) you should be ok…
Wow, so the final verdict: Sold for $600K! Listed originally for $629K… WTF???
Either there really were skeletons in this place or the realtor Paula Rose took advantage of being the seller and buyer agent. Why would you accept such a low offer so soon after the open house and well ahead of the scheduled due date? I would understand it if you accepted say $700K, no contingencies and let's say all cash. Fine, that makes sense. The house obviously still needs a lot of work but the price point of entry is pretty fair still in this day and age of SF proper. But accepting $600K, ahead of time??? Idiot!!! I mean, there literally were hoards of people waiting for the open house to begin. Chances are, people would have bid $700k or more easily!!!
http://www.realtor.com/realestateandhomes-detail/253-Charter-Oak-Ave_San-Francisco_CA_94124_M17634-55478
Or it really was blood stain there…
Hey, it's baaaaaaack!!
https://www.redfin.com/CA/San-Francisco/253-Charter-Oak-Ave-94124/home/751696
Flipper transformed the house. No more blood stain I am happy to report… 7 !! bedrooms and 3 baths, asking for 995K. It's close to the freeway though.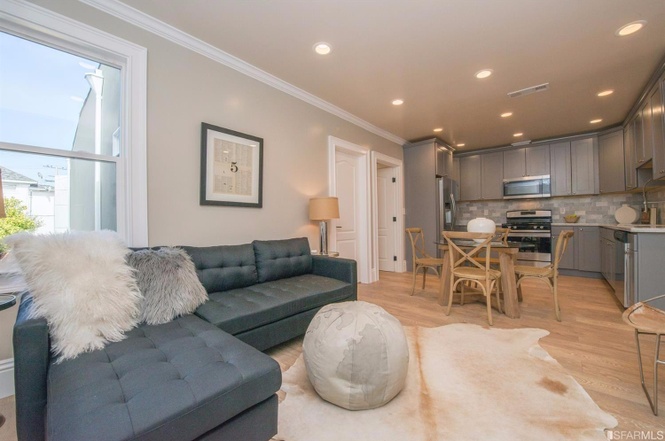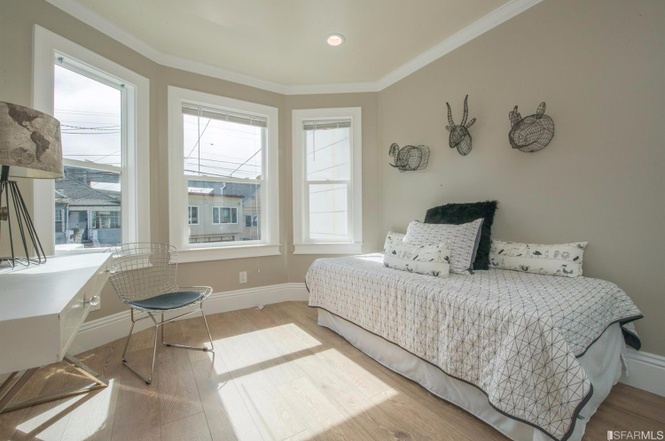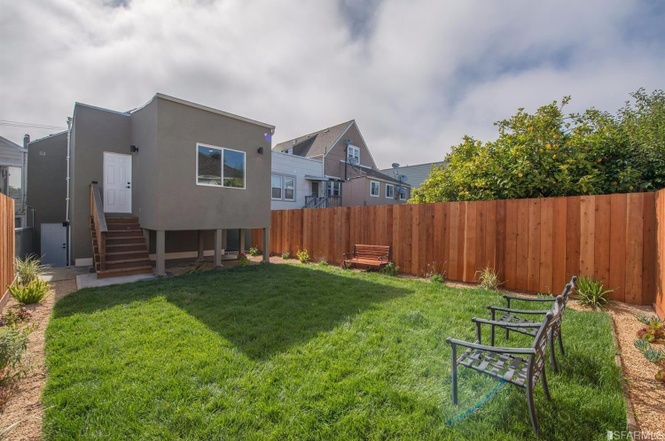 I don't think flippers will make any money at all selling at list price. They bought it for 600K last year.
Yeah, this one you can hear the freeway noise in the near distance if you are outside. Nevertheless, a great case study to see where we are at in the market. If some idiot is willing to pay that much or more, the Fab 7x7 market remains white hot!!!
That's the blood from the last visitor that was bitching about how ugly that house was

I would suggest you to look at the backyard and that small area where you can see the removed grass. Right underneath those chairs

Didn't sell in July, so naturally seller raised price and tried again. Was 995K 3 months ago, now it's 200K more expensive at 1.195, blood stain be damned.
Well, I was going to put this in a Sunset thread but let's also be frank about this one. The 8s didn't do this house any good. Child and father perished in fire (RIP). Back on the market all redone. Uh, read your disclosures and ask THE question buyers!!!
How come the buyer raised the price to 1.82M now? Ok, we are not getting any buyer at 1.68M, so let's see if there's someone will to pay 1.82M instead…

Father and son died because of the big metal gate at the front door. Fire crew had to waste 20 minutes to cut open that door to get access. Could've gotten in there sooner. Also, the grandfather died in there as well. Only the mother escaped.
Again, I have seen this pricing increasing on listings lately and am not sure why. Sometimes, it is followed up with the sale at that price so maybe the LA wanted to update the system(?). Certainly, with an unfortunate event like this at a home, I personally would be glad to just get rid of it at a decent enough price. Natural deaths at a ripe old age of 98 I can deal with…
Disclosure is not going to show anything because the fire happened more than three years ago.
Um… I don't think that tactic fooled anyone. House still sitting on market…