Here is a thread for posting prevailing rates that my broker has advised me about, that I can then share with you for your reference and general calculation purposes use. You may find better rates on your own and of course loan qualification will depend on your own specific circumstances. If you find this information helpful and then you want to contact my mortgage broker who provided this info, then PM me for contact info.
Ok, enough of the disclaimer, on to the rates!!!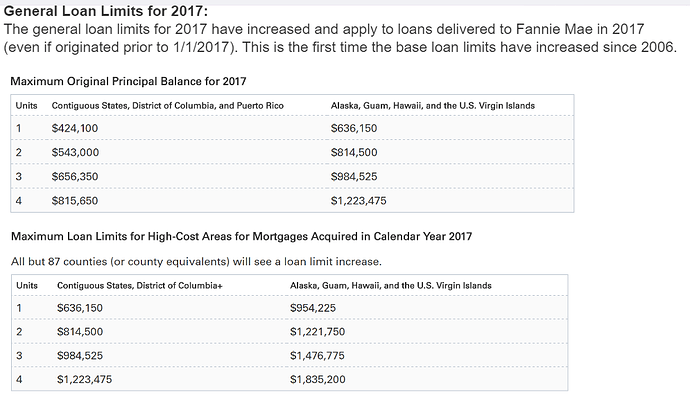 Rate update for your reference as 1/13/2017: The following rate quotes are based on Refinance Single Family Home with LTV 60%, primary home and credit score 740+.
Conforming Loan Rate below:
30 yr fixed refi
3.99% APR
3.99% Rate | At 0 pts, $0 fees
15 yr fixed refi
3.25% APR
3.250% Rate | At 0 pts, $0 fees
5/7 yr ARM refi
3.25% APR
4.375% Rate | At 0 pts, $0 fees
High Balance Loan Rate below:
30 yr fixed refi
4.25% APR
4.25% Rate | At 0 pts, $0 fees
15 yr fixed refi
3.50% APR
3.50% Rate | At 0 pts, $0 fees
5/7 yr ARM refi
3.625% APR
4.375% Rate | At 0 pts, $0 fees
Jumbo Loan Rate below:
30 yr fixed refi
4.25% APR
4.25% Rate | At 0 pts, $0 fees
15 yr fixed refi
3.625% APR
3.50% Rate | At 0 pts, $0 fees
5/7 yr ARM refi
3.625% APR
3.625% Rate | At 0 pts, $0 fees