is on the market!!! Def checking this out. Old though inside, yet still asking 1.3M.
Jason Chan listing…what else is new???
Severely underpriced. Evil.
I guess you have driven by this house too? Now, to be fair, it is all original so a lot of remodeling is needed. It is on a corner that gets a fair share of car traffic turning on or off Sunset Blvd, so one may get a lot of headlight action through the windows at night. That is a fair turn-off of this place. Nevertheless, I have always just liked how the house looks with its multiple floors.
Ah yes, so this is a good sample house to test that theory of how bad is the Sunset Blvd noise. Granted, it is on a corner. Hmm, if I go check it out I may have to look at that part of it. But, again, good new double or even triple paned windows will take care of it.
I thought you don't like any house with the number 4 in it.
Depends… in the case of this one, there is an auspicious 18 that is quite good. In fact, with no 9, 184 is good too. Something like 4424 though would def be a pass…

Ok, despite the pouring rain, quite a crowd showed up at the opening. Nice, fancy color brochure…Ok, so I stood at the third floor gazing at the nice view and tried to determine how bad the noise road would be if one lived along Sunset. There is some background noise and with the slick roads, you can hear the squealing tire noises slightly being this is at a corner. The windows appear to be double paned but seem old. Cute house, should garner considerable consideration and overbidding but really quite original and old. The built in bunk beds are cute in the one room if you have the appropriate kids, but what are you going to do with them later? Cute nooks and crannies but honestly my home is better interior-wise. This kitchen is fairly small and again old. This place can not really accommodate an inlaw without say doing the room separate from the bathroom and kitchen/sink or cutting into one of your side by side garage spaces which would be sacrilegious.
How does curbed and socket site choose houses to report? When it's time to sell, it would be a great advertisement to have the house featured on curbed and socket site. Do you need to pay them?
Good question. I wonder if their staff just scans the open house listings and when something interesting comes up they write about it.
Maybe we can tip them of each other's listings. When you sell, post it here and we'll tip curved or even chronicle to cover your listings.

If you can hear road noise on a lazy Sunday afternoon, it will be at least 2 to 3x worse on a weekday.
I was on the third floor but the front door was technically opened, so it was hard to really assess the noise level. People were wondering about the street noise too. I am sure it is not too bad. I grew up close to the cable cars and I hardly ever notice them or the clanging of the bells.
Boom! Sold for 1.55M, **255,000 over asking!!!
Seems the house got dinged for road noise. It would have sold for higher price is it's a block or two away from Sunset instead of RIGHT ON Sunset.
Agreed, but on the flip side, someone was willing to accept that noise level and still pay 1.55M. Says something about the desirability of the Sunset District.
This is another house on Sunset Blvd. Corner lot. 2/2/1200 sold for 1.2M.
https://www.redfin.com/CA/San-Francisco/2701-Taraval-St-94116/home/1685668
Looks decent. But price seems to be pretty soft. What gives?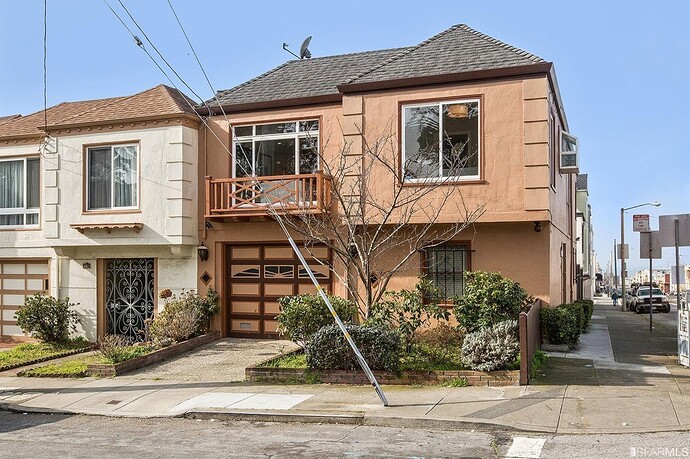 This one is on a busy intersection (Taraval and Sunset) and you are sitting right on the tracks. You will hear and feel the streetcars early and late at night. 1.2M is GENEROUS in my opinion…