Price. I don't care much about volume. People use it to make scary and misleading headlines.
Goldman's forecast for RE prices. Sounds to me too pessimistic, but you never know. Austin forecasted to be down 15%. Bay Area down 13%.
NYC, Chicago and Miami though are flat.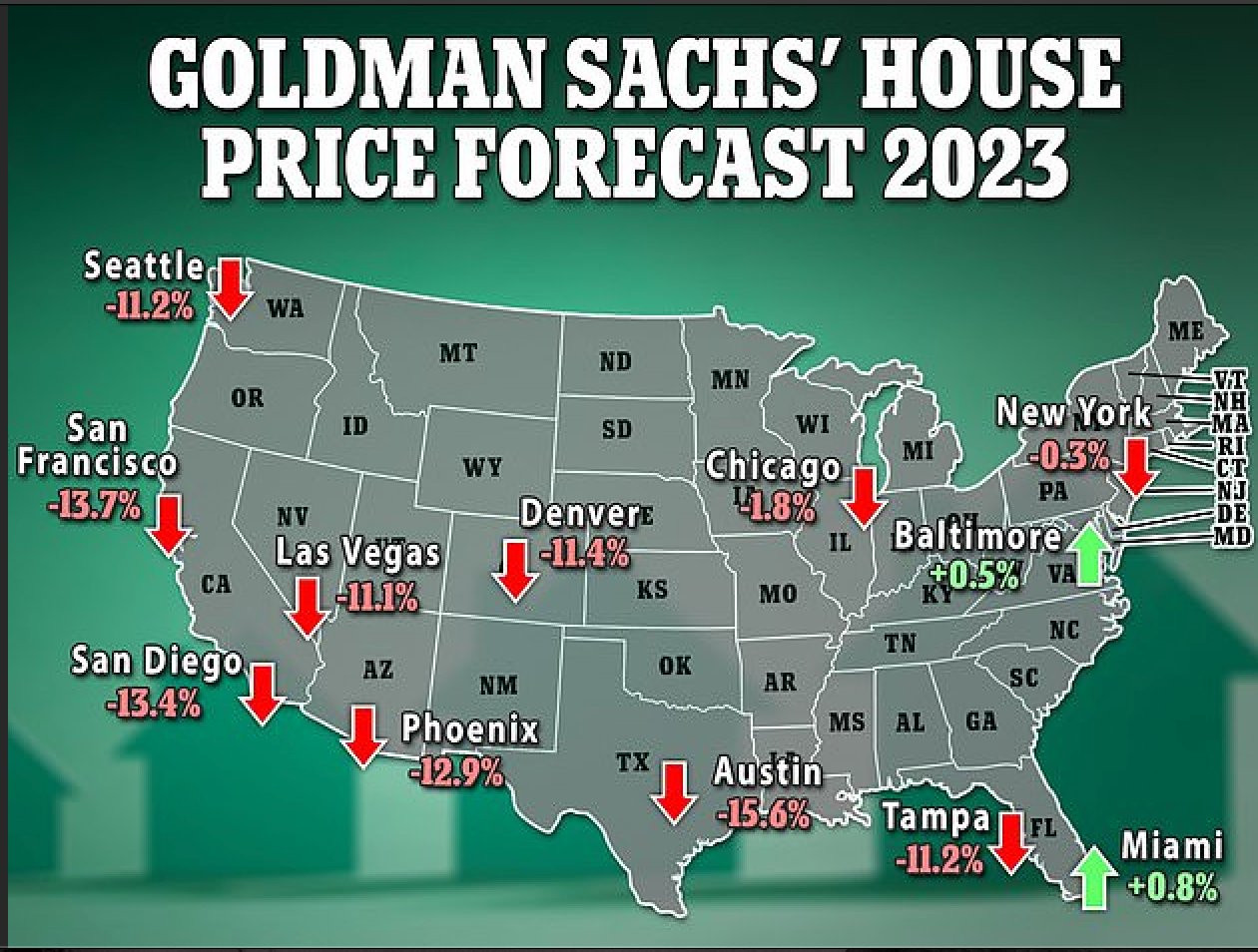 .
If GS is referring to yoy, then is 马后炮. Prices peak in May-Jul and have declined till now. In 2023, would see yoy price decline even if price didn't change.
Well there's more than that. Goldman predicts house prices in Bay Area and Austin will continue to fall in 2024. Huge if true.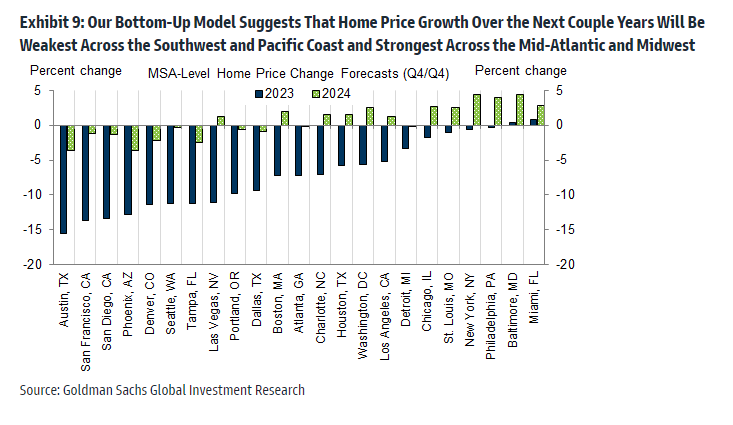 I predicted 50% drop from peak in Bay Area home prices a year ago. GS is a year late.
30% is already done, another 20% to go.
We've probably seen peak mortgage rates for this cycle.
Austin, Texas, offered the biggest discount for renting compared to buying, with renting 121% or $2,013 cheaper per month. It was followed by San Francisco, where renting was 97% less and Seattle was 86% cheaper.
why do they take 7% down payment for comparison with rent? shouldn't rent be compared with 0% down payment buying home?
This house in San Carlos just closed for 2.1M: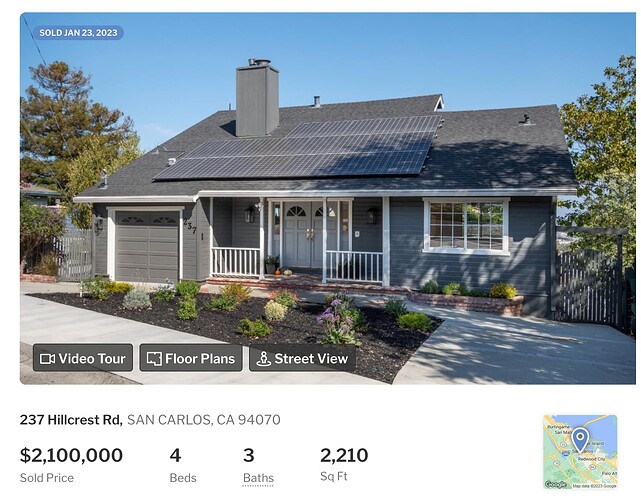 https://www.redfin.com/CA/San-Carlos/237-Hillcrest-Rd-94070/home/1685194
Zillow estimate right now is 2.5M, peak is 2.8M in Oct 2022. So this house is back to 2018 price level.
Sounds about right – down 25% from the peak.
Looking at CAR median price data for San Mateo county, the median peaked at $2.401M in April '22. It was $1.675M in Dec '22 (down 30%), but that does not account for the mix.
$2M for 2200 ft in San Carlos is very good deal. Years ago a realtor told me San Carlos is PA Junior. It's close to all the prime tech companies and yet kind of secluded, less hilly than Belmont and has good schools.
Meh. Sure it's cute and walkable but small lots, no privacy, not enough parking. Schools are only ok. Still a good deal at 25% off peak.
Wow, Nice view. Good deal for the buy I have to say.
My Big Bro owns a multi unit apartment building in San Carlos. Never a vacancy…
Ok, someone on Reddit is reporting rates in the 5's!!! Woohoo, let the games begin!!!
Just saw some social media posts saying the Chinese money is coming back! Now that they got rid of the ridiculous zero Covid policy. And they are buying all cash. That post cited Irvine down in SoCal and Markham in Toronto. Won't be surprised if some of that money flows in to the Bay.
Darly's comment is misleading. Entry homes have been selling well. The slowdown is in luxury and move-up homes since May 2022… activity for move-up homes show signs of life.