The juggernaut that is the SF housing market is alive and well apparently…
I am confused. Are we in a slowdown or not?
SocketSite has been saying inventory is ramping up quite a lot this year. Logic has it that price must be slowing down?
It seems the cool down from Jan-Mar lasts only a couple of weeks. Madness resumes.
I am not yet convinced SF's getting crazy hot again… Need to see a few more months' data. My old hood in SJ is getting hot though.
Agreed, it may be limited to the approx 1M or so market space. I am pretty sure the high end and condo markets are not hot.
Areas like your SJ or Fremont, where I have a house, are doing well because of tech or in my case Tesla (in addition to tech). I am still getting closing emails from Trulia or Zillow informing me of changed status of homes in my area so I am seeing homes in that 1M and under space sell rather quickly. And it makes sense, interest rates are still good if not great and frankly two income couples working in tech can easily afford it.Why pay the crazy rents out there when you can pay yourself and get some tax breaks while you are at it???
Affirmation of how strong SF and the Bay Area is…
I freaking love the Socket Site. Wish they had more coverage of other parts of the Bay though.
Yes I would say Socketsite is one of the best sites to get that daily real estate fix. I find it more applicable than Curbed.com now (esp after they redid its website). Another good one I check regularly is this realtor's blog. He has great articles, of which the the top 10 underbids and overbids I find fascinating. Definitely provides an instant snapshot of the craziness that is the SF housing market.
Yes, I subscribed to Alex's blog feed. Plus he's a good looking fellow. I am man enough to admit that. hahaha
The comments on SS are also top notch. Hey, I remember seeing a dragon boy in their comments section too…
There are many Bruce Lee lovers out there…

SF properties are still selling like hot cakes apparently…
Your boy from The Front Steps seems to think like me. The Avenues are still hot.
Look who's talking his book.
Wow, sold in two weeks, multiple offers, way over asking and terrible street address number too!!! Every possible metric broken!!! Fab 7x7 is chugging along…
Ok, I told sis in law about this Sunset home that would be a very worthy "competitor" to her soon to be listed family dwelling nearby with similar characteristics and so we go check it out today on first showing. MAD HOUSE. Folks, cars were double parked lining down the street. Make-up was primarily Asian and Caucasian with a lot of younger couples oozing high tech money. The staging was very nice and on point. I expect this to sell way over asking (despite that tiny refrigerator, no vent fan, orig bathroom, etc.).
Redfin estimate is $1.31 mil, how much higher than this? Any1 want to guess?
Snipped from one of our fav realtor websites (thefrontsteps.com)…
30 disclosure packages, over 10 offers and seller doesn't even accept the highest offer. Sounds pretty hot still in the Fab 7x7…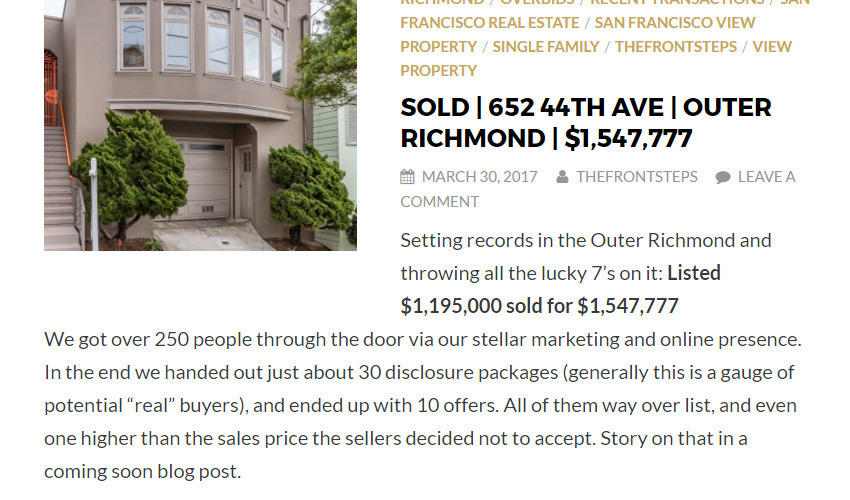 Woohoo!!! SFHs in the Fab 7x7 rule!!! 1.4M median price, baby!!!
OMG, if there ever were a need for a sign that the market has gone loopy, it may be this home. Come on, Sunnyside 3/1 in original shape apparently (so you know things are old esp with only one picture) and while the location is good near Monterey the only other positive thing about it is the potential for inlaw development on the ground floor. Ok, you say. But selling at 1.36M, 362K over asking??? I am about to throw up the white flag to surrender!!!
$300-$400k over asking is the new normal in SF…