http://www.bizjournals.com/sanjose/news/2017/01/03/startup-funding-dove-again-in-bay-area-hotspots-at.html
The drop in Bay Area startup funding showed no let-up at the end of 2016.
Data provided by PitchBook shows the number of deals and dollars invested in them dropped by about a third in the region, compared to levels at the end of 2015. The 365 venture deals reported in Q4 is the lowest since the fourth quarter of 2010 and the amount invested is the lowest since the third quarter of 2013.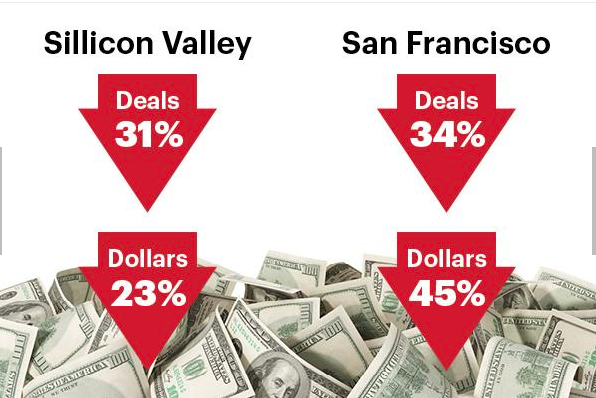 Top 10 cities by dollars:
San Francisco— $2.27 billion, down 45.3 percent.

Redwood City— $436.6 million, up 40 percent.

Palo Alto— $333.1 million, up 26 percent.

San Mateo— $193.3 million, down 51 percent.

Emeryville— $180.4 million, up 218 percent.

Menlo Park— $161.5 million, up 117 percent.

Mountain View— $152 million, down 71 percent.

South San Francisco— $133.7 million, up 8 percent.

Sunnyvale— $127.6 million, down 26 percent.

Fremont— $94.6 million, up 210 percent.