This article is pretty fun. Distilling each famous finance book into one sentence.
Still too long. Only one word: Luck.
Common Stocks and Uncommon Profits by Philip A. Fisher
Buy high-quality stocks and never sell.
I did

My favorite book. At the point of purchase, no need to care about margin of safety, irrelevant for buy n hold, so what is overvalued so long it is going to be 100x later. 1000x later.
One Up on Wall Street by Peter Lynch
Buy what you know.
Obvious. Unfortunately those I know don't soar, those I don't know mooning.
So you finally share something in common with @Jil.
I mentioned this book a few times. @Jil is not a believer in this book. He didn't read it.
Is odd none of the book say buy with money you don't need forever.
That's your idea to write your blockbuster finance book on. Will sell millions of copies.
Hmmm, wrong assumption that I did not read these books. I have physical copy of those books and read those 3 years before. I have even mentioned the 15 rules of that book.
I read Reminiscences of a Stock Operator to end-to-end, he is the legend for trading community, but failed later which is very common in trading.
These two books mentioned are two old classic books for learners of investment, like elementary school books !
I may have appx 50 books including hard copy of "Margin of Safety" and two books you mentioned.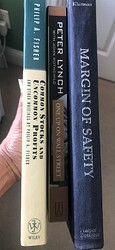 Frankly, They are boring for me as I can not perform the way they suggest and look for profit after few years as I have my own way how to make it work.
Presently, I am reading "Euan Sinclair - Volatility Trading".