Ah, Mr. B loves corner houses too I see… (inlaw potential…

)
No privacy, no yard and not even on the beach…Now wonder he never used it. …I wonder how much more a beach front was when he bought. .Lets face it,the guy is just cheap…
Come on, @Elt1, when you are someone famous like Mr. B, you could walk around in your pajamas and people would still be ooohing and aaahing all day…
Can you image him out on his deck, and people yelling questions to him on what stocks to buy?
I have a friend who lives in Tahoe now, that was Buffets neighbor in Laguna…In the old days Buffet used to have breakfast at the local greasy spoon…And was quite accessible. .Now he is too well known and never goes there…
Come on, even the folks staying in front of him (facing the ocean with better views ) would rather aim their cameras and telescopes toward Mr. B's place…
From the picture, I would pass even if I had money sitting around.
If you watch beach, Pacifica is not a bad choice. I find Pacifica a charming town, just not sure how bad the fog is.
It depends which part of Pacifica. It can be quite nice, but remember pretty cold usually. Pacific is NOT So Cal and Laguna Beach…
Buffet purchased the property back in 1971 for $150,000. With your 11M buy this cutout comes with the house…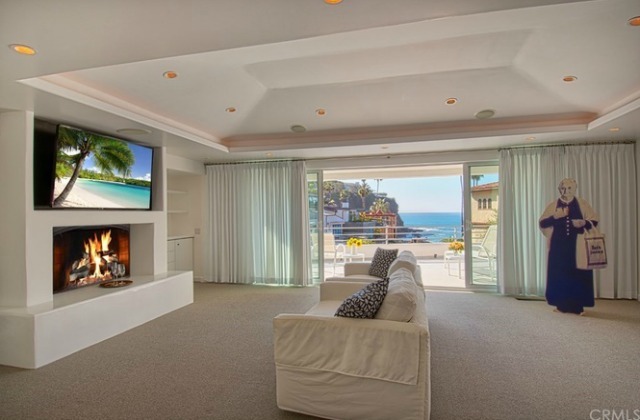 I will scream if I see another flat screen above a fireplace…
Must have been a scheming chiropractor's idea…after watching a few minutes of tv that way, your neck will be needing his services…
It works if you put the fireplace on the ground.
TVs are supposed to be at eye level…
Worked at my last house. In my new house the Tv is next to the fireplace not nearly as elegant. You want the view the tv and the fireplace the same focal point, hard to make work.
True, as that SSF open house I went to had the same problem. The fireplace that is nice and centered at the end of the room doesn't really accommodate a good sized tv. If you know to not put the tv over the fireplace, you would have to put it left or right of the fireplace and that would not be visually appealing. Oh well, can't have it all…
Fireplaces are on the way out. Although needed in SF even in the summer… lol
I have two gas ones in Tahoe. The sealed gas units can heat the whole house for a lot cheaper than wood
Wall furnace is much more energy efficient than central heating. For smaller old houses, no need to upgrade to central heating.
My Tahoe house has forced air, electric floors and two gas fireplaces. The previous owner was elderly and didn't like the cold. The gas fireplaces work when the power is out. Definitely a plus in Tahoe
He can give it to me for free if that is what he makes in an hour.
Me first!!!