Realty One Group

                                          Campbell, CA 95008 

Since late 2011 the San Francisco Bay Area home prices have been rising year after year following the economic recovery. Conventional wisdom suggests that homes prices will increase exponentially the most during the first one third of a growth cycle. The later growth will be less until price maxed out asymptotically.
Figure 1 is the historical single family home prices in San Mateo, Santa Clara and Alameda Counties combined per MLS.SFBA Home prices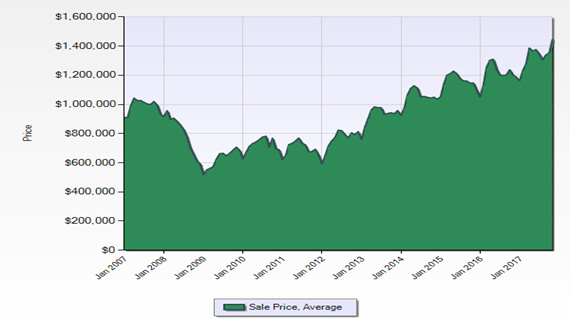 Figure 1 Historical SFBA (San Mateo, Santa Clara and Alameda Co.) avg sold home prices

The average home prices from three counties (SFH 3 br+) bounced +18.7% (2012-2013), +13.7% (2013-2014), +8.8% (2015-2016), and during second half of 2016 value increase was receding resulted in a +2.8% price increase (2015-2016). Stated differently, the growth momentum was losing steam just before the presidential election. In 2017 after the election there were more anxious buyers willing to pay top price for anything that looks like housing. During the first 11 months of 2017 the market is so hot that +24.4% home prices increased. During Thanksgiving, pre-holiday season people are motivated. In a normal year after schools started there was often a temporarily cooling off until spring time. This is not the case this year. Those home seekers lost out on used homes go to builders applying builder's own mortgage trying to get favorable treatment. Instead, there was lottery on many new home release. People scrambled going from builders to builders finding the same people all competing for fewer new homes. These new homes come up in very small quantity-a dozen or so per release and they are gone quickly. As a realtor, builders also asked me if I know any vacant lots or tear downs they can buy. The entire SFBA land is mostly built up. At open house, one home seeker told me they are willing to give up rental deposit of $5K so they can get an early start as they expect $50-70K price increase when their lease is due a few months later.
While there are some mortgage interest fluctuations and minute adjustment interest rate remains to be historically low. There is ample money supply. Today one can still get a 30-year jumbo mortgage slightly above 4% and slightly less for variable (ARM). By and large the interest rate is relatedly constant. In research article Synposis on Mortgage Interest vs Affordability by Shueh, for every 1% interest rate increase there is 10% increase in mortgage payments.
It was not long ago one has to be in a very special neighborhood to justify a 1 million-dollar home. Home buyers and investors asked me how can these older tract homes that were asking for $500K sold not long ago in Santa Clara blue collar neighborhood can have a $1.3 M price tag. I replied I could not even give one away by Wilcox High School for $375K while people wanted to offer only $309K and felt it was justified during the Great Recession.
The law of supply and demand dictates the equilibrium price of a property. In a particular city and a lack of land to add new properties the price tends to rise. As the available land is depleted, whatever lots the developers can find they tried their best to squeeze more homes out of these tiny lots. Most new development consists of only 10-20 homes. Many do not even come with a yard. They should be called detached town houses. They comprise of three-story "tree houses". Downstairs has a garage, upstairs is the Great Room with a big slab in kitchen area, and third floor is the living quarter. The total construction permits issued is a very small number. For example, in San Jose each fiscal quarter that issues just a 100-200 SFH and there are restrictions what and where one can built and how many must be low income eligible.
-to be continued-