https://www.redfin.com/CA/San-Francisco/1537-Cole-St-94117/home/602315
Listed at 1.38M two weeks ago. Reduced to 995K today. The location is hot, but the house is not apparently…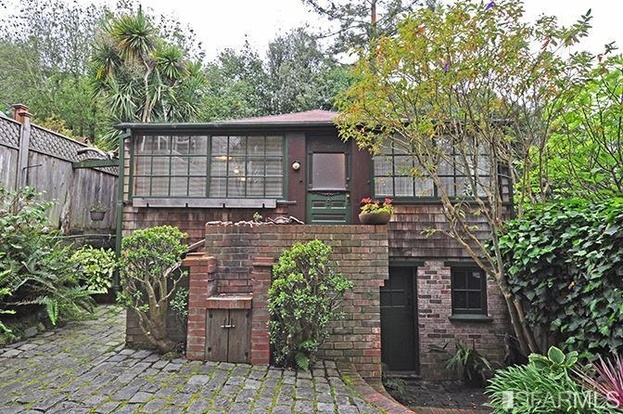 Lake Tahoe? Yes. San Francisco? No.
I guess it has too much of a dungeon feel to it…
That, or it looks like a cabin with all that old wood in there. Def belongs in the countryside somewhere…
After moving to SF, it's to my surprise a much more segregated place than my old hood in San Jose. That part of SF – Corona Heights – is very white. I drive there occasionally to pick up my kids. I like that area, but won't be able to afford it for a looooong time if ever.

It sounds like you can afford it, just don't want the increased property tax bill. That part stops me from even thinking of moving out of the Sunset. Granted, my wife and I do love our home and location that we really don't want to move. Why move to areas where when you have to drive everywhere? That is not going to fly when we are old.
Now, perhaps for another post, I would consider adding a 3rd floor for a great ocean view but my architect told me the current building costs are way more than I was projecting (and I was projecting fairly high).
Let me stop you right there. I can't afford Corona Heights…

Hey you know what?! The price cut works. It's now pending. 2 days after the 400K price cut.
Reminds me of what "Jim the Realtor" used to say: There is nothing price won't fix!
So far, the houses you show look like houses in Detroit

I can't only afford Detroit-level houses in SF

And they cost 1M+, ugly as they may be…
Granted it took a major haircut to sell, but a million for this Tahoe cabin is still a grand sum. Hopefully, it gets a nice redo all around. Once again, reports of the SF housing market's demise are greatly exaggerated!!!
They raised the price to 1.16M today and changed to pending right afterward…
The SF market is hotter than ever. Isn't this essentially 1M+ for a lot?
Well, technically you can live in that house. Just pretend you are out in the woods.
Sold! 1.475M.
Listed at 1.38M, lowered to 995K, then back up to 1.15M, finally sold at almost 1.5M. That's 100K above the initial asking price back in April.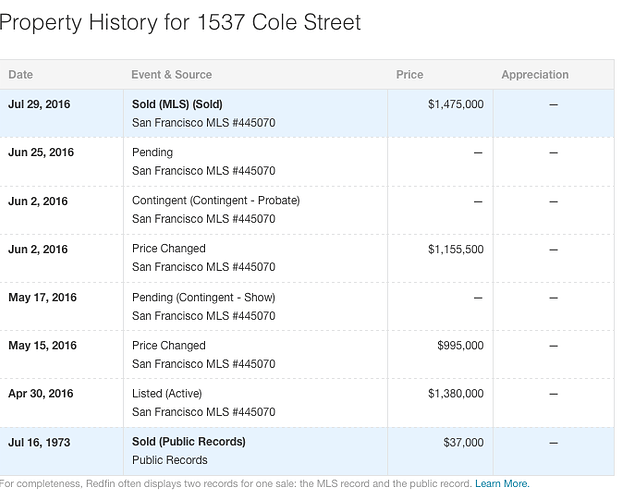 Geez, that is nuts!!! Just when you think some normalcy is about to come to the local housing market, WHAM, you get hit with this. And I can't imagine the owner is going to leave the place as-is, so you are talking another what 500K for essentially a new home. Oh, prefab action???
Maybe people are turning back the clock to log cabins/cottages as better dwellings after the Millenium debacle…
This house is estimated by Zillow to be at $2 mil at one time. Transacted prices are now below Zillow's estimate, used to be always above.
I get 8.7%/year average annual appreciation. Better than a sharp stick in the eye, but not spectacular either.
Almost 9% a year appreciation means double in value in 8 years, pretty spectacular and probably unsustainable unless zoning or demographics change… in 32 years it will worth 8 times more…not likely, except in PA from1984 till now…A $250k PA house then is worth $2m today…If you'd put down $50k, your return would be 4000%