Does that mean Tesla owners are anti Semites?
If I ever become a billionaire, would ask Walter Isaacson to write a biography. I know, just day dreaming.
"Once he heard I'd shorted the stock, he was super mean to me, but he's super mean to so many people, so you can't take it too personally," Gates told the author, Fortune reported.
Contract extends billionaire's role as a defense contractor
Starshield provides customized satellite communications
Space travel is biggest waste of money in history. The idea that there are aliens is totally idiotic. The distance between galaxies measured in light years means that there will never be communications with fantasy aliens.
EM always want to be in the limelight. This time, he takes on the role of a reporter…
Musk, wearing a Stetson hat, opened by saying he was there to 'eyeball what was going on, so you can get the real story.' Flanked by Tony Gonzalez, the local congressman, Musk said: 'This is not a piece that is being filmed and subsequently edited. This is the raw feed, right here.' He added: 'As an immigrant to the United States I am extremely pro-immigrant, and I believe we need an expanded immigration system so anyone who is hard-working and honest should be let in.
'But we should not let in people breaking the law. That doesn't make sense. The law is there for a reason.'
Biden Admin vs Governor Abbott on illegal immigration…
After the wire was cut last week, Governor Abbott took to X, formerly known as Twitter, and said: 'Texas installed razor wire in Eagle Pass to stop illegal crossings.
'Today the Biden Admin CUT that wire, opening the floodgates to illegal immigrants.
'I immediately deployed more Texas National Guard to repel illegal crossings & install more razor wire.'
Biden Admin welcomes any immigration from Mexico. Is Mexico joining USA as a State?

Border apprehension is the highest under Biden. Highest since 1990. Much higher than the last guy. But don't let facts get in the way of opinions.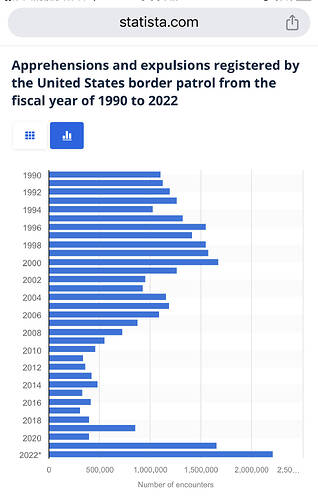 While the picture looks good, it's not accurate. The more people that flood in thinking it's ok because we currently have a weak system, of course you're going to get more apprehensions.
If the same amount of people crossed each year, then yes I would believe the picture books.
@manch needs to learn basic maths again.
More people have the wrong perception is somehow our government's failing? Harris explicitly told migrants don't come to America as they will be arrested. Why is the current system "weak" when we have record number of apprehensions?
The 2022 apprehension is 5x the level of 2018. Do we have 5x illegal crossing attempts?
Nobody knows for sure how many attempts there are. But it's clear to me this statement below is ridiculous:
If Biden "welcomes" illegal immigrants you would see zero arrests at the border. You don't welcome people by arresting them. In fact the opposite happened. Number of apprehension is highest in over 30 years.
For him, Tesla is about trying to save humanity from global warming while SpaceX is about making humanity a multiplanetary species in case things don't work out on Earth.
A year ago, with the purchase of Twitter-turned-X, Musk couched the decision as keeping the social-media platform as a bastion for free speech in what he sees as a larger battle against cultural forces trying to squash diverse thought—or, as he calls it, the "woke mind virus."