Come on, stop sensationalizing this mania. You know it's the wrong thing to put your money in. My god.
I am a believer of digital currency, even though I don't know exactly which one of those will eventually dominate. It solves some real problems for many people. Comparing to gold, digital currency is extremely convenient for online transactions. Some of the currencies have limited total issuance, or at least they are less likely to be controller/devalued by any single government once they gain certain acceptance. Another important reason, some governments start floating the idea of getting rid of paper currency. Imagine someday paper currency is no longer available and the Federal Reserve starts to force negative rates on not only banks, but also retail customers, what are people going to do? So far, an expected bank run is the major deterrence to such ideas.
Even if digital currencies fail to gain popularity in main stream, there are still black markets. Digital currencies provide better protection to customers of these black/gray market, and they will find a niche market there.
Um… you can say the same thing about tulips. People need some kind of flower to decorate their room. Might as well be tulips.
If there is a cap on how many tulips can be produced worldwide, and there are ways to transmit tulips untraceable instantaneously, that new thing could very well be tulips.

Um… sorry there's no cap on how many cryptocurrencies could be produced. They can be infinite…
That's why bitcoin is the tulip. The others ones are rose, chrysanthemum, and cherry blossom.

Many governments now follow semi-digital form of currency, right from credit card transactions, ACH and wire transfer…etc various forms of digitization started.
Governments are reluctant to completely digitize the currency like the way bitcoin is created for various reasons. It may take decades to come to pure digital currency.
Bitcoin is the pure form of digital currency, but not backed up by any government ! Many government won't recognize as this was created in parallel to all government currency control, used to hoard gray-market cash. Since this (bitcoin or similar) are widely acceptable by many sites, they are going up.
IMO, even though it is going up, It is scary as some day group of nations (including USA, China) will raise against it unitedly like the way US has banned holding gold .
I also believe in digital currency. However, the US dollar is already fully digitized. Cash accounts for less than 1% of my transactions.
I also accept gold bars as security deposit for my tenants. How come it didn't register in the news???

Gosh, figuring out interest owed on that would be a b*tch…
BEIJING—Chinese authorities plan to shut down domestic bitcoin exchanges, delivering a final blow to a once-thriving industry of commercial trading for virtual currencies, which took off inside the mainland four years ago.
The country's central bank has led a draft of instructions that would ban Chinese platforms from providing virtual currency trading services, according to people familiar with the matter. The move comes after months of scrutiny by Beijing, including a ban last week in China on initial coin offerings, a kind of fundraising via virtual currencies.
Regulators in China have been investigating the domestic market for bitcoin and other virtual currencies since the beginning of the year. For a while, officials considered enacting antimoney-laundering rules on exchanges, even circulating a draft of such rules for them to follow.
But the stakes for Beijing grew as prices of virtual currencies like bitcoin soared, adding to the risk of further speculation by domestic investors. Analysts and investors say one reason bitcoin prices rose last year was that Chinese people began using the asset as a way to bet that the value of the yuan would fall. Virtual currencies in theory can allow holders to bypass the traditional banking system to move money outside of China's capital-controlled borders.
The People's Bank of China didn't respond to a request for comment.
Officials from the central bank, cyberspace administration and banking, securities and other regulatory bodies considered various options for months but ultimately came to a consensus to shut down virtual currency exchanges, said the people.
"Too much disorder was naturally a basic reason" for the ban, said one of the people. The price of one bitcoin traded at around $4,279 Monday morning in Beijing, down 16% from its record on Sept. 1.
Trading volumes have already plummeted in China, with authorities stepping up efforts to rein in exchanges. Analysts say more activity is moving underground, where individuals can send virtual currencies to each other using private addresses, which serve like safe-deposit boxes.
The people said that regulators will likely to have to tolerate noncommercial trading of virtual currencies. "The government also doesn't have the power to control" that, said one person.
Two of the China's largest domestic bitcoin exchanges, Huobi and BTCC, said over the weekend that regulators haven't asked them to shut down, even as speculation grows. "We're still awaiting formal notification from regulators," said BTCC Chief Executive Bobby Lee. "It's obviously a sensitive time period."
A Huobi spokeswoman declined to comment beyond the firm's press release. Another domestic exchange, OKCoin, didn't respond to request for comment.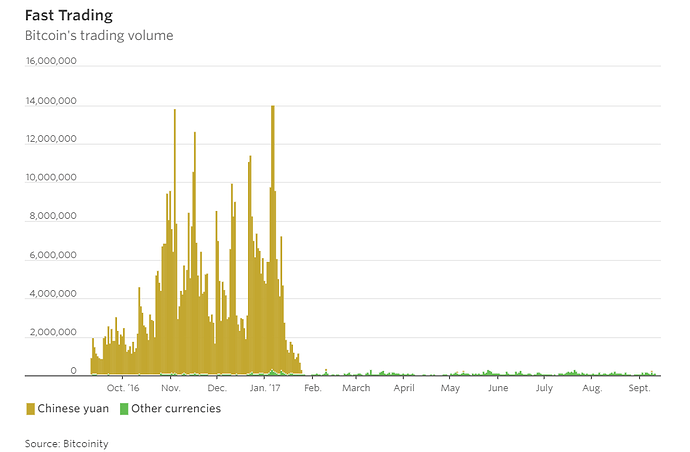 Bitcoin is crashing.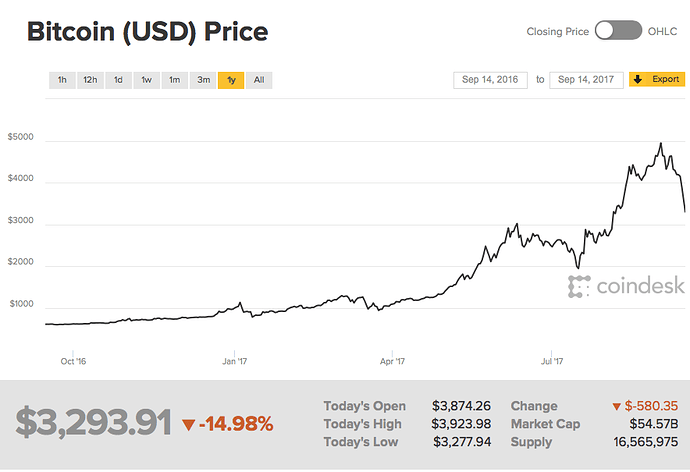 From just a hair below $5,000 on September 1st, to below $3,300 today. That's 34% decline in two weeks. Today it crashed another 15%.
Anyone catching the falling knife?
Um… are you willing to sacrifice a couple of your fingers for millions and millions? How about a billion???



Upto 4000. tempted to throw some play money. Is GBTC the only ETF/Stock eqivalent if I dont want to buy the currency directly?
Come on, you are an investor not a gambler.
Thats why play money, not all my savings

Um… good let's play some poker, at least there's fun involved

It would be registered as: Landlord is killed, his apartment was ransacked, motives unknown.