China Grounded Boeing 737-Max
Indonesia Grounded Boeing 737-Max
Cayman Grounded Boeing 737-Max
What Is the Boeing 737 Max and Which Airlines Fly It?: QuickTake
https://www.bloomberg.com/news/articles/2019-03-11/what-is-the-boeing-737-max-and-which-airlines-fly-it-quicktake
Which airlines have purchased the 737 Max?
Plenty, but most orders have yet to be fulfilled. As of January, Boeing reported that it had delivered 350 of the single-aisle jets to 46 airlines. In total, orders from more than 80 operators exceed 5,000 planes. Most sales are the Max 8, the model involved in both crashes. (There's also, from smallest to biggest, a Max 7, 9 and 10.) The main operators include Southwest Airlines (31 in the fleet), American Airlines (22) and Air Canada (20). Norwegian Air, FlyDubai and several Chinese carriers also operate them. Click here for the full list.
I posted here as this is a buying opportunity!
I got BA for $375/share.
I had Boeing that I got out of after Lion Air crash back in Nov. I sold in 320s and stopped tracking the ticker. I noticed yesterday that the stock fell to just below 300 and then climbed all the way to above 400. So, in hindsight, a bad decision to get out back in Nov. But surprised as well that BA was not penalized much for the issues with 737 Max.
@Jil What's your theory on why BA climbed up to >400? And, forward looking, I would expect a fall to at last Nov levels this time.
Like TSLA, Boeing is my favorite from $200+ onwards. I got Boeing many times various intervals ($214, $295, $315…) and sold too profitability (In my part, this is really not good, selling it).
We have only two major plane manufacturers in the world, Boeing and Airbus(France), and both are fully booked with multi-year orders and struggling to keep up the delivery.
This is high capital intensive industry, growing with world economy, population growth. Both companies are well known for their quality, strict compliance, strong after product support.
Either Lion Air crash or Ethiopian Crash or any future Crash, stocks are widely dropped by speculation, but both companies are strong on technology, quality control and hard to be source of issue.
They are clear buying advantage, except worldwide recession hits. In recession, both companies suffer heavily as ordered will be cancelled.
BTW: Boeing is very likely comes down again to $350 or $360 range soon, never forget to grab more. As long as there is no recession seen in future, any time Boeing falls on speculation is an opportunity.
This is solid dividend company like COST. Hoping to hold for long now for dividends, let me see.
[Edit] warning:Please see the boeing update, looks like long term issue for boeing.
Hardly dropped. So much more than princess' 52-week low. Passed.
Don't buy at $95, now think $365 is a bargain?
You should wait for $200!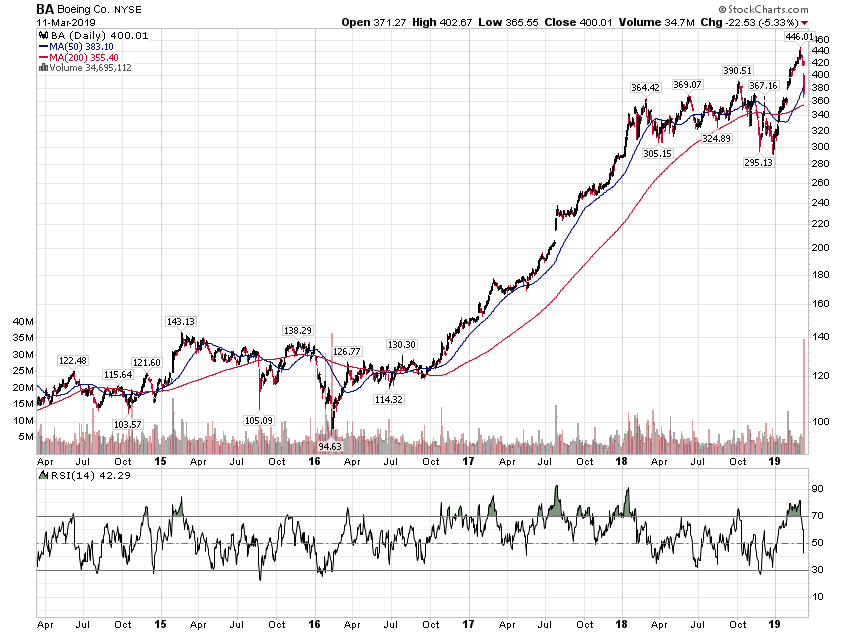 You are an investor, buy it at $200, but I am trader, let me buy and sell when it dips just 10%

Bought at $121, sold at $292.

Singapore Grounds All Boeing 737 Max Flights: Boeing Update
Expected many more grounding until this resolved.
Looks like Boeing will have setback, sure to reach $350 (hoping), orders, legal challenges, more grounding…etc
I agree with Feinstein on this. She is a good senator
Boeing is spoiled now, sold profitable and unlikely touch near future!
Thought you wanted to long, sound like you have shorted.
737 sounds like a Tesla. Permanent beta product
More like a serious Toyota pedal issue. Won't be like PG&E fire issue. So would recover. Wait for $200.
Is it? I guess there are some reason for entire world grounding "Boeing 737 Max 8"
Read the post "I'm a pilot. Short/put $BA", after that tell me "Will you board the Boeing 737 Max 8 anytime now?"
They already have a software update going through the approval process. It's a short-term issue.
I honestly don't get why it's only an issue on the Max version though. I don't follow Boeing close enough or know enough about planes to know why it only impacts one specific variant.