What if someone went all in on NKLA?
5 years ago has NKLA?
Anyhoo, the biggest contributor for her return is TSLA!!! What is her return without TSLA?
5x over 5 years = 38% annualized return. If next five year is 20% p.a., then over 10 years is 10x or 25.9%, even lower than BRK.
AMZN and NFLX easily beat that. FB is almost there.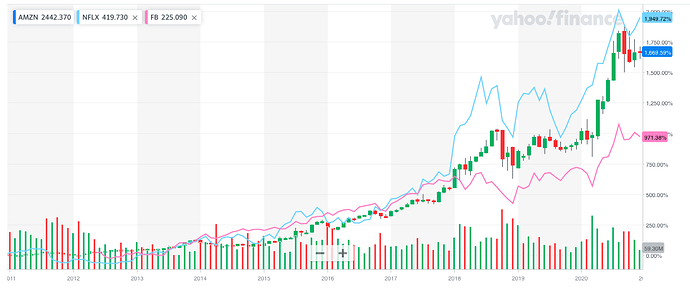 And AAPL achieves 36.3% annualized for 20 years! I hope that is her UPOD target. Otherwise, no point putting money into her fund.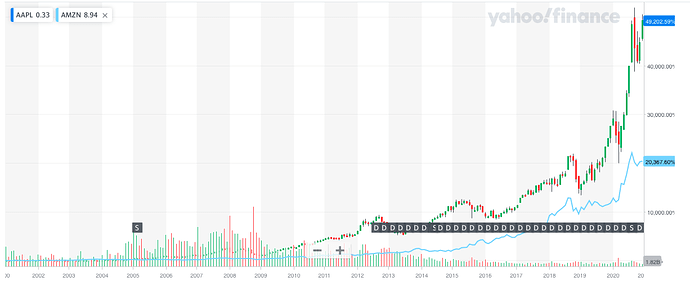 Don't know anything about genomics. But I am thinking of putting a small amount of money in to force myself to learn more. Maybe @DH0 and @britt522 can help?
BTW Ark has a podcast. Haven't listened to any yet, but just noticed it has a guy on who I read regularly talking about cloud software.
She is in tune with millennials. ROKU SQ TSLA

CRSP was recommended by @Jil moons ago.
This makes the argument against diversification. I bet the allocations were all under 2% until the run this year. It's why her return is 20% while holding some stocks that are up a ton this year.
That's true only from looking back after the fact. That's survival bias at work. You could be lucky until the day you aren't.
I have ROKU and SQ. I am also in tune with the millennials…

I know you have ROKU and PSTG. Since when you have SQ? I sold mine dirt cheap ($80), I believe you've bought them, sell them back to me at those prices!
I think she has over 100 stocks not 50 only.
I don't have PSTG. Need to do some more research. Their stock is pretty cheap compared to other high fliers.
YTD price for TSLA is 7x and is 10% of ARK which is up 150% YTD. So,
0.1 * 6 + 0.9 * e = 1.5
Hence e = (1.5-0.6)/0.9 = 1
That is the rest of the portfolio doubles which is not bad.
Hopefully my maths is not rusty

Some of the ARK picks are based on automatic computer algorithms, esp ARKK, and is actively managed. IIRC, they provide some web where you can subscribe for email alert.
As soon as the ARKK fund buy or sell, we get email everyday around 3PM.
Google internet you may get it.
Nowadays, I do not subscribe to their page (as there is no need for me).
ARK published their fundamental studies/model long back and I already listed that link in Tesla thread at that time.
Is this one of ARK's successful strategy? Millennials blindly buy what the fund buys? Ditto for sell.