"It's a bubble, just like 2000," says Fred Hickey, editor of the High-Tech Strategist newsletter. WDAY,
NOW, OKTA, and ZS are over-valued. So what? Bubbles can last for years!
Software spending isn't immune to economic cycles; if there is a slowdown or a recession, the stocks could take a major hit.
If? If continue to boom, new ATHs after ATHs?
If investors begin to focus on earnings based on Generally Accepted Accounting Principles, which properly reflect stock compensation as an expense, valuations could fall.
This is a real risk.
Workday's non-GAAP earnings last year of $1.36 a share turned into a loss of $1.93 based on GAAP numbers, largely because of stock compensation.

Is opposite to hiding profits through acquiring assets. Showing profit where there is none.
Cloud-based software has many advantages. It's cheaper than the old packaged products that required complex installation and maintenance, allowing smaller businesses to benefit from services once affordable only for corporations.
Clouds are for small and medium businesses only? Can't scale? Cloud experts please comment

The sector has a bright future, but the stocks have little margin for error. Warns Hickey: "Software is really risky for investors. The risks are not reflected in the stocks."
No risk, no gain.
Now the grand finale,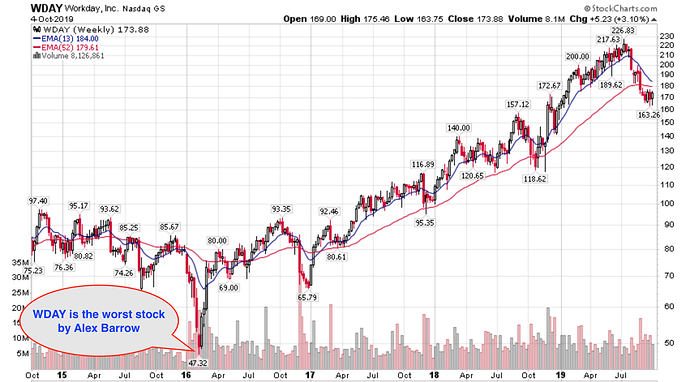 Waiting for Alex's world is falling apart article