The latest numbers show 33,000 more vehicles at the Bay Bridge toll plaza in the 4 a.m. hour in June of this year compared to two years ago. In the 5 a.m. hour, it was only a 7,000 vehicle increase.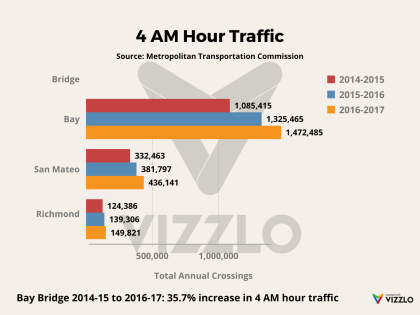 Henderson blames the early wake up calls on the housing crunch.
"You work in servicing a Google, Facebook or a Twitter or some Financial District building, and it needs to be cleaned before 8 a.m. You can't easily change your housing, so people get locked into these long, arduous commutes," Henderson said.
The earlier commutes could prompt transportation planners to consider things like 24/7 carpool lanes and tolls, just like they have in Los Angeles.
"Little by little, the difference between traffic conditions in the Bay Area and traffic conditions in Southern California is shrinking. We are becoming more like our neighbors to the south," Goodwin said.