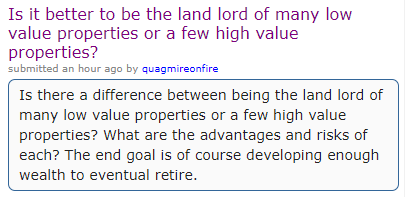 Low cost ones usually have higher cash flow.
Rent luxury, buy utility:

Not that i agree, but he has a point.
Low cost properties attract low quality tenants. Expect more trouble and drama.
Agree. I sold all except one of my low cost properties and 1031 to higher cost property. So much less drama so I can manage on my own without property manager. People who earn less find less value in their time and are willing to use that time to harass you if they are unhappy
low cost is relative. for the same money that buy low cost homes in bay area, can buy good quality homes in Austin

There's always a tradeoff in everything. Low quality tenants means cash flow galore. High quality tenants are trouble free but you have to suck up the negative cash flow. Want to FIRE? Forget about it.
And no state income tax on profits !
Is that the case if you live in CA but own in TX?
More properties = more tenants = more chances for something to break.
but also better way to reduce overall vacancy, and scale.