Bill McBride at Calculated Risk put out a fascinating table on his blog recently that shows the coming changes in the demographics in the United States: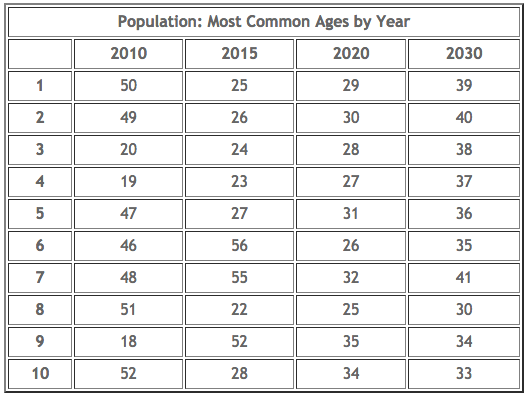 These numbers are amazing. In 2020, the most common ages will all be between 25 to 35 years old.
I get questions all the time from investors asking me about the impact that retiring baby boomers are going to have on the markets and the economy in the coming years. I think people underestimate the impact that the millennials — who recently overtook the boomers in numbers — will have to counteract their parent's generation.
People seem to think that millennials are all going to live in huge cities their whole lives and never buy cars or houses and settle down. My guess is that my generation is simply putting traditional next steps into adulthood off for a few more years than previous generations. In the past people used to get married right out of high school or college. Now young people go to college (many for an extra year or two), then go to live in a big city for a few years to have some fun, maybe go to grad school and by the time they decide to settle down they're in their 30s.