Bruce Burnworth used to clip coupons and look for deals before his investment in Tesla Inc. TSLA 0.29%▲ made him a millionaire.
Mr. Burnworth, a civil engineer in Incline Village, Nev., who is nearing retirement age, is using all of those strategies after turning a roughly $23,000 options gamble on Tesla last year into a nearly $2 million windfall. His growing Tesla stake had enabled him to borrow against his position to convert Tesla options into shares that have soared sevenfold this year. He says he also helped his daughter buy a home and purchased a Tesla sport-utility vehicle for another family member.
"Before, I wasn't doing particularly well financially. Now, I'm well beyond where I wanted to be for retirement," said Mr. Burnworth, who added that he also sold his own home and used some of the proceeds to buy more Tesla options.
A strong indicator of stock-market euphoria flashed red last month. Investors borrowed a record $722.1 billion against their investment portfolios through November, according to the Financial Industry Regulatory Authority, topping the previous high of $668.9 billion from May 2018. The milestone is an ominous one for the stock market—margin debt records tend to precede bouts of volatility, as seen in 2000 and 2008.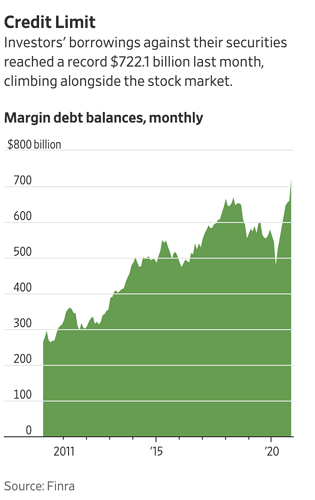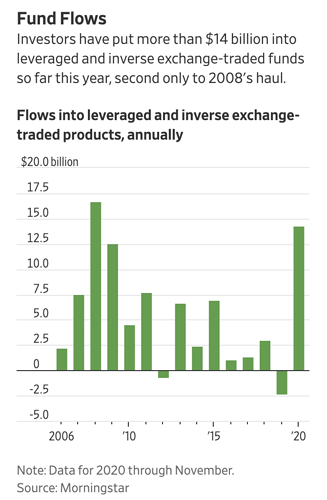 Mary Roberts made her first big investment last year, using some spare cash and a leftover retirement account from a previous job to buy up shares of Tesla. Like Mr. Burnworth, her investment portfolio swelled in value this year as the electric-car maker's stock ran up, leading her to dabble in options trading for the first time using margin debt.
"Having [shares of] Tesla enabled me to do all of this stuff. This was life-changing," said Ms. Roberts, who is 53 years old and lives in Vancouver, Wash. She and her husband run a chemicals-distribution business that she says has struggled because of Mr. Trump's trade war with China. Between her investments and her spouse's, their combined portfolio is now worth seven figures, with two-thirds of that consisting of Tesla stock, Ms. Roberts said.
She says she doesn't think she will see another year of gains quite like 2020 soon. But she has no plans to sell any of her Tesla stock either and is open to the idea of borrowing more against her portfolio.
"This is what wealthy people do," Ms. Roberts said.
WRONG
Really wealthy people put their wealth in safe instruments and dabble only a few percentage of their wealth in stock trading. Talk a lot about stocks as a social activity, not seriously trying to make money.
Borrow against TSLA to buy more TSLA is a BIG no. Double reward double risk.
Every time a stock appreciated unrelentlessly, many similar stories cited in articles linked by @manch. Is actually almost time to RUN. Not put more money in the stock market especially get out of TSLA, too many nouveau riche because of TSLA.
Are you implying Wu is not rich???

He didn't chase momentum! He double down when the stock is down. These guys are doubling down when the stock is at ATH. Do what Cathie does, sell TSLA and buy ZM which is down big.