There is a Reddit thread full of middle class people moving out of the Bay Area because of housing prices…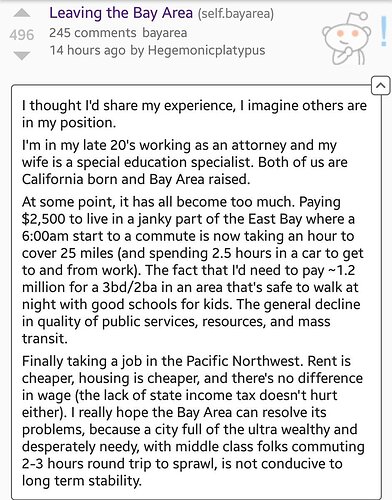 Maybe we should have @sfdragonboy talk some sense into this person:
My great grandparents lived in San Francisco. My grandmother crossed the Golden Gate Bridge on opening day. I love the city deep down in my bones. I feel like it's a part of me.
But I got sick of paying $1300 a month to live in a shitty neighborhood with 4 roommates. In a city that doesn't seem to want to do anything about serious issues - homelessness, crime, housing.
I left for the east coast a few months ago, and I'm really happy. My mortgage on a 4 bedroom house is much less than I was paying for my bedroom in SF. I have a big yard, and a dog. I can drive to the grocery store and park there. Life is easier.
I love the Bay Area and I always will. Maybe I'll move back someday, but for now, it's just not worth it.
Some of the cheaper Bay Area towns people suggested in the comments:
Castro valley's half that price, it's safe, and the schools are pretty decent.
Of course, that only resolves one of your complaints. Traffic is indeed a disaster, etc.

Don't forget San Leandro! Nice small town feel, still reasonably priced, close to BART, clean, friendly. Still about 15min from everything! And the schools are not bad.

Got a 4/2 in Concord for less than $400k last year. Safe neighborhood, lovely downtown, plenty of access to public transit and lots to do within a reasonable driving distance. Still have to commute an hour but I'm always looking for a job closer which should happen eventually.

Damn, I just moved up to concord. Bought a house for only around 400k, BARTing into the city only takes about an hour. Not sure where you're at or where you're going in the east bay but there are ways to do it in the Bay Area, you just can't be too picky…
Reading all these stories just confirmed to me that not going to grad school was the best decision I've ever made.
I have my eyes set on San Leandro. It's still very affordable and I heard the town has improved quite a bit. Schools are still bad though.
I like Castro Valley more; schools are better too.
I always thought Castro Valley is a hidden treasure unknown to most people. Turns out the secret has been out for a long time…

CV is great if you own the house and live there. But for rentals isn't it a bit too far? I honestly don't know. Anyone owns rentals in CV?
Well, it is tough when it boils down to dollars, not cents…
There was some report today that the city added even more jobs again. Let's be honest, am I going to stay up all night wondering what we can do to help these folks who bleed the fab 7x7 but can't afford to do it here live? It is not a consolation, but the city is always going to be here to be revisited and enjoyed. I don't make the rules. Our freaking lame Bored of Stupidvisors does and they want to concentrate on spending good money (some of it is yours and mine) on keeping this city a sanctuary city. Basic question: shouldn't we be concentrating on the lawful citizens of this city instead of the illegal ones? Sorry, Kate Steinle, we totally let you down…
Whenever I see people complaining about high house prices, I always looked back at my purchases over the years and wonder did they all look in the wrong places? Even in SF the paragon of expensive cities there are decent houses selling today easily affordable by a family making 100K or so.
Are they in fancy neighborhoods like St Francis Woods or Pacific Heights? Hell no. But what's so bad about Outer Mission, Portola or even some nicer bits of Bay View and Hunters Point? BV and HP are NOT all ghettos, if they can just get out of their prejudices and go take a look.
I was in Seattle this week. It's night and day compared to the Bay Area. The amount of new constriction and cranes dwarfs even downtown San Jose. They approve and build. The entire South Lake Union area was unsafe, abandoned warehouses 10-15 years ago. Now it's full of Amazon buildings and luxury condos. The area near the new stadiums is completely gentrified too. They are pro development.
Come on…Castro Valley, San Leandro and Concord are a LONG commute to most jobs around here. If they can live in a nice neighborhood and have a short commute somewhere else, I don't blame them. I'd get out of dodge if I could convince my husband.
Where would you go if you can convince him?
San Diego or Seattle would be the most practical for us but I'd love to use my EU passport and take the kids to live in Europe for a couple years.
The folks that complain about the bay area often come from standard middle-class homes in america. This means a nice, large 4 bedroom house, two cars, and a stay-at-home mom. Their breadwinner parent may not even have a college degree. Now imagine you grew up in that environment, and you were a high achiever, destined to do far better than your parents. It must be a bitter pill to swallow to come to the bay area to work as an attorney, and live in a moldy home in bayview. The harsh reality is that most folks just want a typical "american" middle class lifestyle. To get that lifestyle in the bay area, you need to be firmly entrenched in the upper class. It is this disconnect that causes such consternation for bay area families.
If you can do that when your kids are young they may even pick up 3 or 4 languages…

I don't think we will ever build enough housing in Bay Area. The Prop 8 incentive is for towns to house businesses not people. The best we can do is build up public transit to ease the commute pain. Or maybe East Bay will one day achieve critical mass and people don't need to commute as far.
That must be it. For me who came from a much bigger and even more expensive city a moldy home in Bayview is already a nice upgrade.

Paraphrasing Horace Greeley, "move East, young man"…Still plenty of opportunities in the east Bay…Plus I still have one house left in Stockton for sale… . $175k, totally remodeled on a 9000sf lot…
Forget HSR, run a fast train all the way from SV to Stockton and Sac…
Sure, but a LOT of people also live there successfully. So if the original poster is going to complain about SF and Penninsula prices, don't pretend the entire Bay Area is too expensive (expensive, yes, but not TOO expensive yet)
I wonder how Bay Area compares with Manhattan? Tons of people go to work in Manhattan from the other boroughs or even Jersey by trains and subways. I don't seem to hear that many complaints there. If we had great train and BART service I think it won't be that bad. Also maybe like @telemarker said, people expect a SFH with a yard in SF but they don't in Manhattan.
I'm not saying the commute isn't doable. Tons of people commute here but if a better quality of life without a commute can be had somewhere else, why not? Depends on each family's circumstances.