I am already trying to draw a remodel plan, from 3 BD, 1BH to 5BD,4BH.
During this remodel, I have an opportunity to change one bedroom into a bedroom cum office room, separate entrance door in place of a window.
Will it be attractive to have home office option?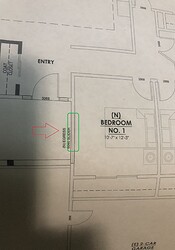 Why?
If someone is having home office business, they can claim home office deduction (Like rental write off) only if they have separate entrance in the home office. IRS will not allow tax deduction unless the owner has separate entrance.
If the home is 2700 sqft and owner spends $3000 on mortgage interest per month, he/she can deduct $1000 ($12000 year) on home office deduction.
This is only allowed if they have separate entrance.