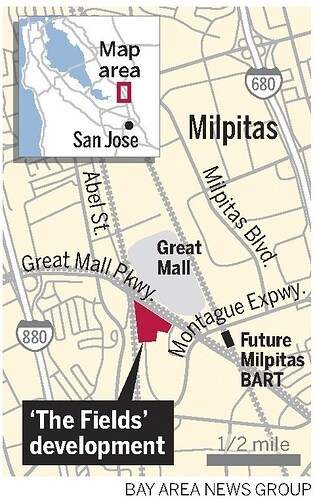 MILPITAS — A transit village has begun to rise next to The Great Mall in Milpitas, bringing apartments, an organic grocery store, a hotel and high-end stores and restaurants.
The development, known as The Fields, will offer residents nearby links to mass transit and will incorporate amenities including upscale athletic centers.
The Fields complex is under construction, and its builders hope to capitalize on an existing nearby Santa Clara Valley Transit Authority light rail stop and the under-construction Milpitas BART station, which will operate at the corner of Montague Expressway and East Capitol Avenue.
"We really believe the future of single- and multi-family residential will be connected to these transportation nodes," said Kyle Suryan, director of investments with Newport Beach-based Lyon Living, the project's developer.
This new Milpitas project will include 1,185 apartment rentals to be built in four phases, 150,000 square feet of high-end retail and a 200-room Virgin Hotel.
"The apartments will be for families, tech workers, for millennials, for people now in Milpitas who want a place to live, young professionals," Suryan said Friday.