https://www.forbes.com/sites/ingowinzer/2017/12/14/overpriced-markets-on-the-horizon-could-prove-dangerous-for-investors/#465a05802a72
The chart of Rising Prices shows 25 markets with strong price increases. In the right-hand column you can see that most of them had good growth in jobs. In the middle column you can see how the current level of home prices compares with the "income price", the price that corresponds to the local income level.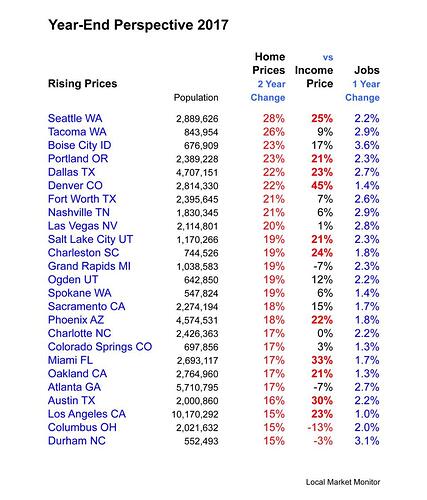 Investors have done very well in these markets but - this is why we're reviewing now - more caution will be needed in the future. Once prices are 20 percent above the income price, markets get into overpriced territory. So far only Denver is seriously overpriced but another ten markets are well on the way. Overpriced markets won't necessarily fall any time soon, but they are more dangerous for investors.
Note that secondary markets within larger regions may be the better bet going forward. Tacoma rather than Seattle, Fort Worth rather than Dallas, Colorado Springs rather than Denver, Ogden instead of Salt Lake City.