I reviewed my tax returns and noticed the depreciation changed every year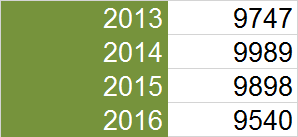 Depreciation = Home Building value (not land) / 27.5 years. This must be constant. However, if they account current property value reported by county (for property tax purposes), this can vary every year.
I do not know why such small changes in every year. I will be asking the same to my CPA.
However, do you see similar changes in your tax filings or is it constant? Or how do you evaluate depreciation every year for rental property?