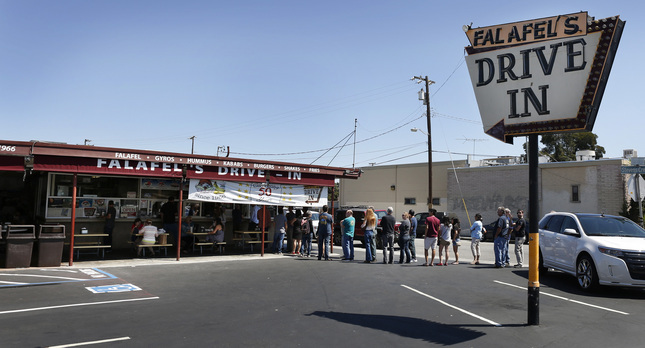 The specialties at Falafel's Drive-In on Stevens Creek Boulevard in San Jose include falafel sandwiches, gyros, salads, pita chips and a banana shake. Nowhere on the menu does the iconic San Jose restaurant offer humble pie.
The 50-year-old eatery is one of the latest victims of serial plaintiff Scott Johnson, who has sued the restaurant over Americans with Disabilities Act violations like countertops that are too high, bathrooms that are tough to navigate, and handicapped parking in the wrong place.
A lot of businesses sued by Johnson wind up paying him attorneys' fees of $5,000 or more. It makes for a handsome income stream for the disabled Carmichael lawyer. But the family that owns Falafel's does not want to settle. They're thinking seriously about fighting.
That Scott Johnson dude is a serious scumbag. The Falafel guys are asking for donation to fight the scumbag. Pitch in. Or just go get a falafel.