It is truly amazing that Powell is willing to take out the banking industry, the stock market, emerging markets, the RE industry at 4.5% inflation.
Volcker did it at 15% inflation. He is trying to be nastier than Volcker… totally unnecessary.
Meanwhile the people have spoken. Covid has made people want to spend like there is no tomorrow. To hell with hair shirt Powell. People are getting paid $200/hr to shovel snow in Tahoe. They are going to spend it. Lifts and restaurants crowded. The roaring 20s. Let the good times roll.
Being "nastier than Volker"' would involve raising rates to in excess of 20%. 4-5% is consistent with the long term average - not a restrictive rate at all.
This is much needed in the USA if we want to save US society from crumbling. The cost of living in US has become unsustainable and a huge reset in all asset prices is needed whatever consequences that may have on the asset holders. Anyone denying this fact is delusional. Powell is doing the right thing assuming that he means what he says.
Raising rates from 4% to 20%, like Volker did in the 70s, price of money went 5x.
Powell raised rates from 0.1% to 4.5%. Price of money went 45x.
…sigh…I remember being a wage slave. Now that all my income is passive I pay maybe 11% fed and 2.5% to AZ on annual income that exceeds what I made much of my working life. I paid double and sometimes triple those rates on money I actually earned. The system chews.
.
Passive income? Shouldn't it be either 0, 15% or 20%? Dividends are taxed at LTCG rates.

Active income tax rates…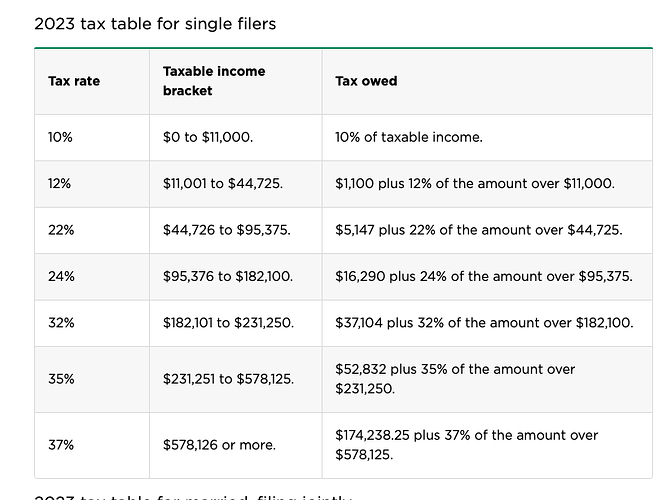 There's deductions plus exemptions on the first 40k or so. Reduces that 15% rate to about 11%.
.
My computation shows your net take home is equivalent to those active income earners in the 32% tax bracket. You play the game right

Thankfully that isn't yet applying to those blue snakes I breed.