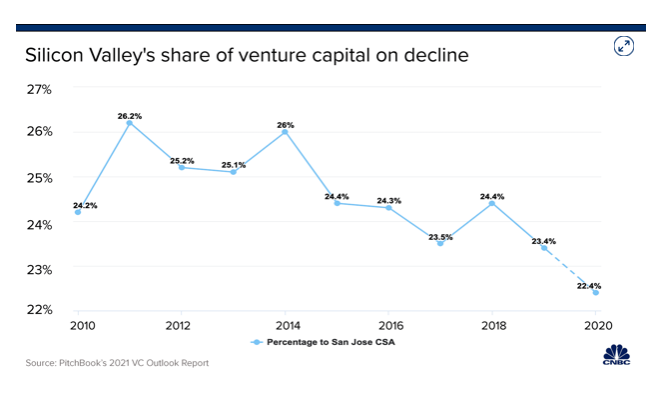 Good, we have one more signal to monitor. From past experience is a leading indicator.
SV share of investments decreasing doesn't mean the total investment of VC firms is decreasing.
They are, after all, investors like us, also better than us, to find good companies and pump funds to gain big !
It is always common for reduction in VC funding as startups are not going to give VCs multi-millions or billions during recession period.
VC less funding SV means no good start ups or IPO soon, mostly during recession times.
VC firms are investing a record amount of money. They are just shifting where it goes.
2019 was actually a down year.
No need to guess. We have actually H1 2021 data.
The Bay Area is on pace to set a record for venture funding
In the first half of this year, Bay Area startups collectively raised $54.5 billion, according to the report. At that pace, they'll break the record total for a full-year — $66.4 billion, set in 2018 — in the middle of the current quarter.

Perhaps as impressively, it means that 36% of all venture dollars nationwide are going to San Francisco or Silicon Valley startups. That's not far off the share the region garnered the last two years, even though the total amount raised by startups across the U.S. in the first half surged to $150 billion — already the second highest amount for a full-year.
Take San Francisco. Its startups attracted $25.2 billion in funding in the first half. That exceeds the totals posted by startups in 49 states. Only its home state of California — thanks largely to the Bay Area — attracted more venture funding.
Menlo Park, Mountain View and Palo Alto each attracted more venture funding than 47 states. Their totals were topped only by California; New York state, whose startups raised $20.9 billion; and Massachusetts, which brought in $17.4 billion.
Some in Texas and Florida have made a lot of noise about Bay Area tech companies and startups moving to their states. But San Francisco and those same three Silicon Valley cities each attracted more funding in the first half of this year than all of Texas, which has garnered about $4.2 billion. All of those Bay Area cities, plus San Jose and San Mateo, each took in more than Florida's $1.5 billion in the first half.
Bay Area itself has expanded somewhat with hybrid remote work arrangements. I'd love to see data on Sac and maybe even the Reno area.