SJ is beating SF. This must be fake news. Seattle is right after SF. I'm surprised Seattle is beating Boston and NYC.
.
According to @manch, people are not leaving SF. Wait… did he say he has moved?
I recalled a certain dragon hyped SF but he moved too.
Hmm…

That I think is the Quora poster person's housing status. I could be wrong though.
.
I think you're right


I actually like San Jose more than San Francisco. I don't recall saying any bad things about SJ ever. But who cares where I live though. I don't have 30M assets.

.
The fact that you make the OP mean you wish you have

Keep it up. Inform us or PM me when you graduate to UHNWI status… I will make a trip to CA to celebrate your newly acquired status. Move fast, @wuqijun is closing in fast to that status.
You like Willow Glen or Santana Row?
You're right. I'd like to accumulate wealth fast and furiously

Reading this fun book:
How to Get Rich: One of the World's Greatest Entrepreneurs Shares His Secrets https://www.amazon.com/dp/1591842719/ref=cm_sw_r_cp_api_glt_fabc_PJPZSC6AKNGG4CNVT1CC
And came across this passage: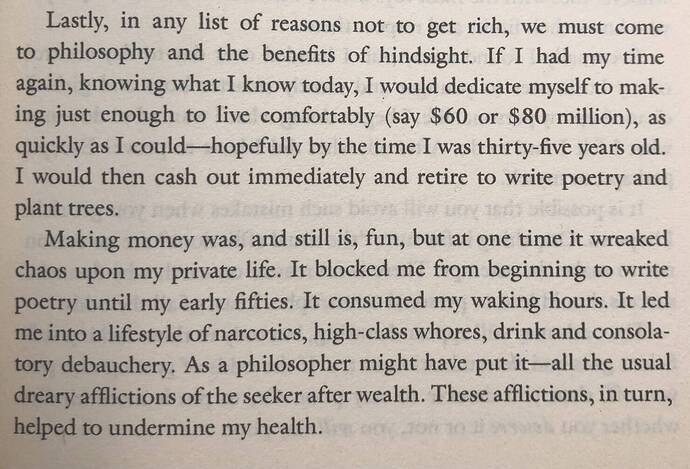 From $30M, now you want $60M to $80M?
Actually, "a lifestyle of narcotics, high-class whores, drink and consolatory debauchery" doesn't sound too bad to me…

My grandma used to say "Well, put me in an Easter egg and hide me on the White House lawn."
It's ironic because she wasn't even religious!
For those who dream of becoming an UHNWIs, below are some problems you might face…
Just returned after spending a week in New York City. Last time I lived in New York longer than a week was about 30 years ago. All I can say is that the city is aging (I am using word aging lest some of you find use of word "dying" too strong) . Missed the sight of twin towers from the NYC skyline. Lot of empty stores. On average, there is one empty store every block. In age of square, and clover, lot of business still insist on payment by cash only (probably the only way to avoid taxes. NYC has three level of taxation I guess. )
One positive change though, JFK has a air train that connects to subway system at two location. Back in 1990s, JFK used to run buses between terminals and nearest subway station. I recall seeing air train in 2006 also, but I do not know if air train connected to subway in 2006 as I drove straight to return my rented car at JFK. Roads (like NJ Turnpike) were better marked than they were back in 2006.
WC Fields — 'I spent half my money on gambling, alcohol and wild women. The other half I wasted.'
Really? You're crazy. And I'm telling your wife.
I don't act out my fantasies. Besides, I don't have 60M (yet).