Magnificent 7 outperform growth stocks

Looks like the 17 reading on F&G 3 days ago caught a local bottom at least? Hope it will hold.
Black swan is about ripped Tom Lee's face.
Oil price to $100 per barrel.
Fed hike rate to 6%.
Market crashes 20%.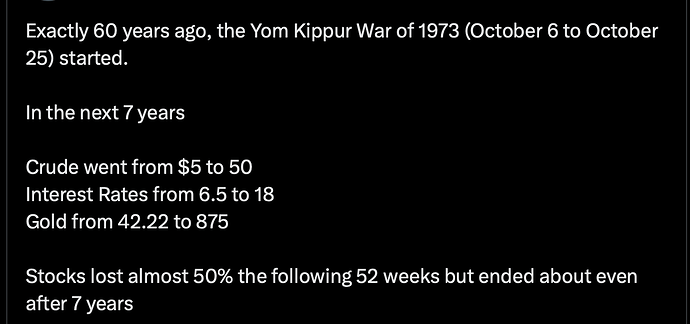 Magnificent 7

Cybersecurity stocks

Rest mixed.
Banks do well. No bull market without banks participating. So this is a good sign for bulls.
Consumers continue to spend at a relentless and unsustainable pace. Ok, I'm a huge contributor to that the this year.




JPow keeps trying to knock down American consumers but we just keep spending like there's no tomorrow.

Tom Lee's face is ripped today. He is a permabull.
Permabulls like Tom Lee get their faces ripped again.
Oddly USD, Gold and Bitcoin rally. Thought prices of gold is inversely correlated to USD?
5% on the 10-year Treasury is a key level for Wall Street and is a strong signal that investors may be losing faith that the Fed could cut interest rates in the near future, and pressure equities as a result.
Market is deaf. Fed has already signaled "higher for longer" for many meetings. Pretty obvious no cut in 2024.
I think there is a decent chance we are done with the "higher" part in "higher for longer". Financial conditions have tightened tremendously with 10-year yield shooting to the moon. Don't think JPow wants to completely tank the US economy.