WS bashes AAPL relentlessly for … weeks. Why? WS wants market (SPY, QQQ) to capitulate?
In recent weeks, with the contract coming up for renewal, the parties agreed not to extend it. Some Apple executives had questioned how much the company was paying Mr. Ive and had grown frustrated after several of its designers left to join Mr. Ive's firm. And Mr. Ive wanted the freedom to take on clients without needing Apple's clearance, these people said.

Possibly

Price action suggests a possible bullish count.
Bullish signals
Price above 50-day SMA
RSI above 50
MACD crosses above zero line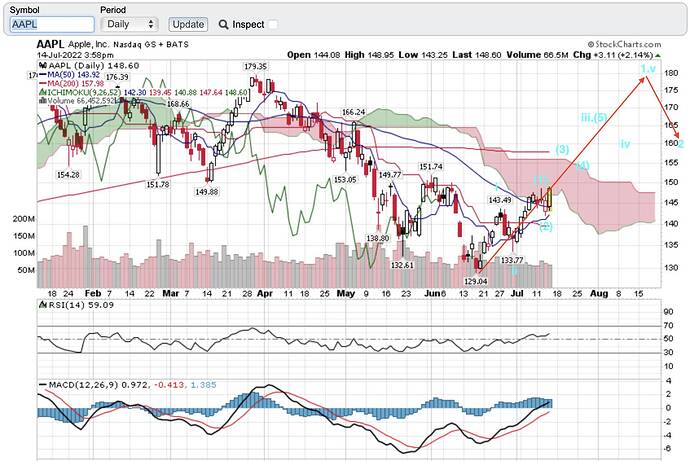 Weekly chart.
Conservatively, need 3 conditions to be met for confirmation of a new (multi-month) bull trend.
Could take months.
Aggressively…

Current trend:
Multi-month: Down
Multi-week: Up
Multi-day: Up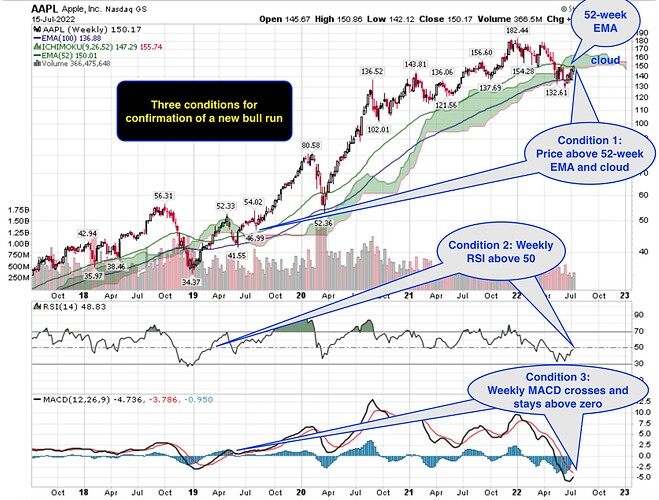 Daily Chart: Today, one possible update to count… count assumes wave 1 is completed but may not have, from experience if wave 1 is a new ATH (above $183) would confirm a new multi-month bull run… there are other possibilities, not drawn for clarity…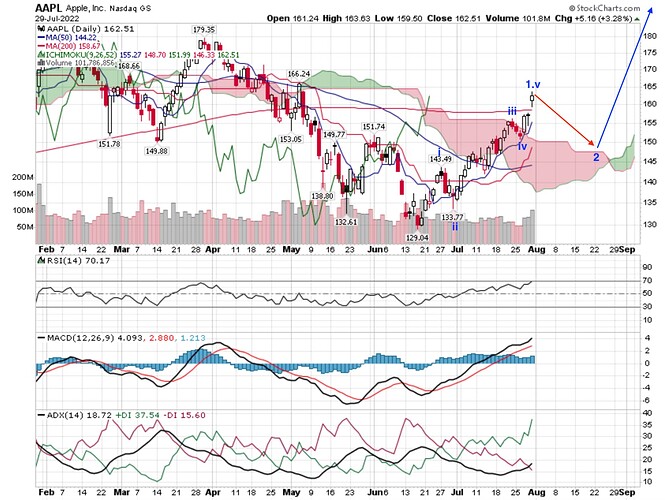 16 days ago… EW count is…
Downturn is over. My portfolio of mostly Aapl and Tsla held up extremely well (only down 14% ytd vs -20% for the nasdaq). Will vastly outperform the index for the remainder of the year. Plus, I picked up more Tsla on the cheap at the June bottom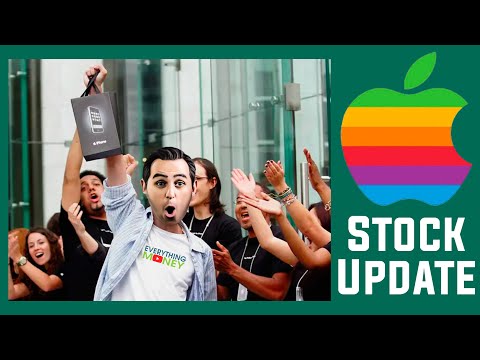 Where did Paul get the news? Not on Apple website.
Found it. Is not an announcement. Is a SEC filing.
Long story from Paul. His reasoning is irrelevant. The real reason for debt is…
The company currently has $94.7 billion in long-term debt, after repeatedly tapping bond markets instead of repatriating cash from overseas.
Repatriating cash need to pay tax.
When our award-winning analyst team has a stock tip, it can pay to listen. After all, the newsletter they have run for two decades, Motley Fool Stock Advisor, has tripled the market.*
They just revealed what they believe are the ten best stocks for investors to buy right now… and Apple Inc. made the list – but there are 9 other stocks you may be overlooking.
Is that a good thing?
Cautiously optimistic, below is the uber bullish (what I want to see) count… yes, I am expecting a new ATH before Apple Sep earnings (in Oct)/ Fed Sep mtg. Uber uber Wave (3) would break above $167.11.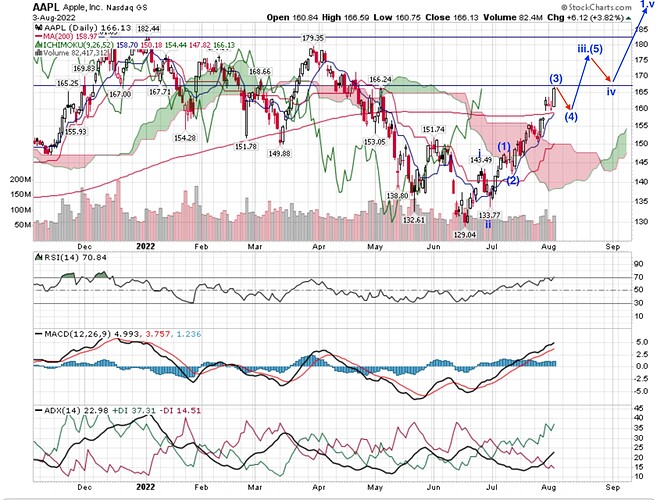 Controversial.
AAPL is an all-weather stock

Going to Ads market as a defensive move. In the future, can become an offensive move to incentivize migration from Android. Market size of iPhone can continue to grow for some time

I am waiting for the release of Apple headsets and glass.
Two alternative counts, one bullish (blue labels), one bearish (red labels).
Closing the earning gap would favor the bearish count.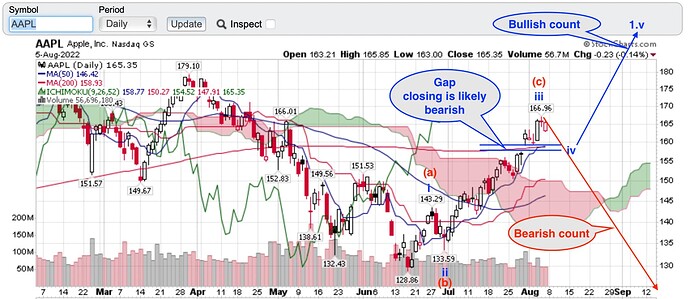 6 days ago…
Update to über bullish count…

AAPL is in a multi-week uptrend, looking forward for a confirmation of a multi-month uptrend.
11 days ago…
Ecstatic if come to fruition.
7 days ago…
So über

Stochastic overbought so may see ST weakness.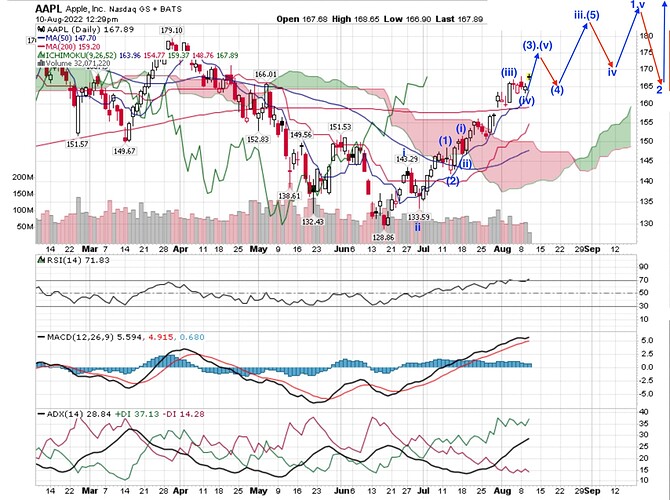 Bored of reading bloggers debating about merits of WFH so post a daily chart of AAPL to show that AAPL is in a multi-day uptrend, 5-day EMA > 7-day EMA is the commonly used metric to determine multi-day trend.