One month ago…
Today… almost vertical climb… annualized rate of price increase = 80%

At this rate, would pass $1M before end of the year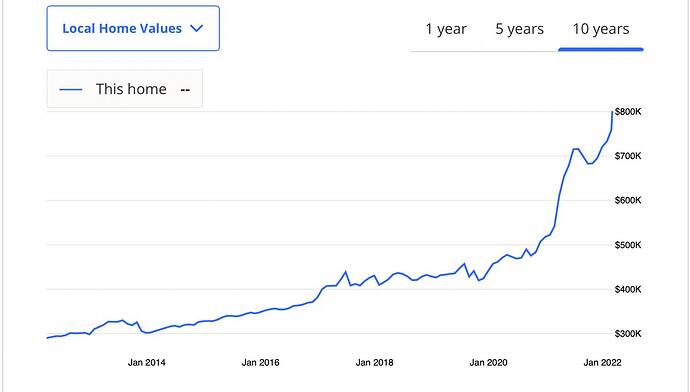 My guess is many investors read articles like above. I have rentals in Cedar Park, Leander, Pflugerville and Hutto. None in Manor and GeorgeTown. Articles are a bit old. Hard to find houses renting for less than $2000.
"We have degrees, we're pretty successful, we're blessed that we have the jobs that we have and that we're doing as well as we are doing, but, you know, being in your mid-20s and purchasing a $500,000 home just really isn't in our … not feasible, not in our sights," Reynolds said.
Degree holders are a dime and dozen. In Singapore, throwing a stone randomly would hit a graduate. About 70-80% of adults are graduates. If you are a CS or engineering major, your have likely aced in your high school.
20s and want to buy a SFH? Labor in the building industry has to be dirt cheap or nobody is successful. There are many successful young millennials… get to know a young couple of late 20s own four houses.
In the same neighborhood. Built by the same developer in the same phase.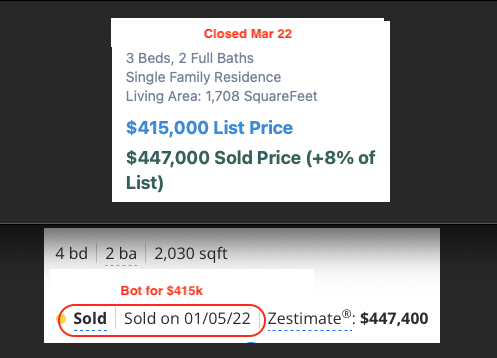 Annualized

rate of 40%: Thank you, Californian investors (guessing).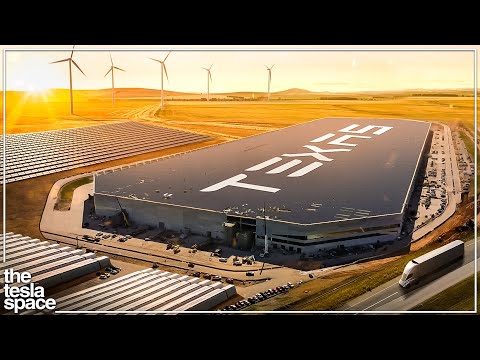 Now waiting for EM to announce moving HQ to Austin

Buy Austin RE

A SFH that go to the Austin gigafactory quickly.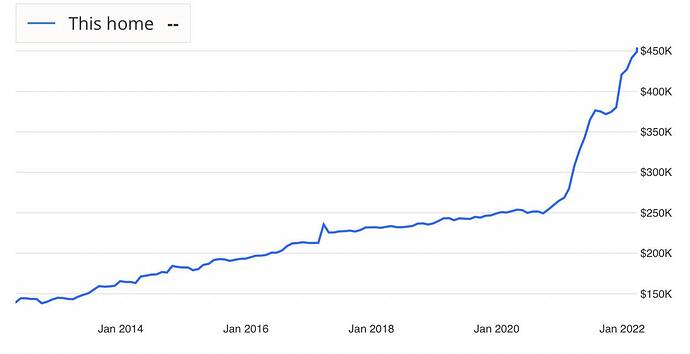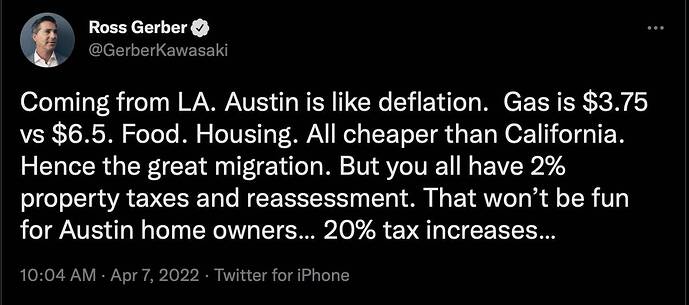 Don't invest in GK. 2% of a $700k (homestead discount) 3500sqft Austin property is less than 0.63% of a $3.5M 2000sqft CU property.
Just got my assessment in mail today, assessed value went up 67%!!! @hanera what about yours? Looking to appeal?
Travis county is outrageous. Assessed values are higher than both Redfin and Zillow estimates. I am asking my realtor to provide comparables for me to protest. Assessed values from Williamson county are reasonable.
Man! They need to find the money back from all the tax break they are giving to Elon?
Maybe I should take my 6X return (in 7 yr) and run

I presume in future TWTR employees can either WFH or work in Austin

Posted on Mar 8 i.e. more than two months ago…
Today… because of fast rising mortgage rates… price appreciation has slowed from annualized 80% to 40%

Armageddon!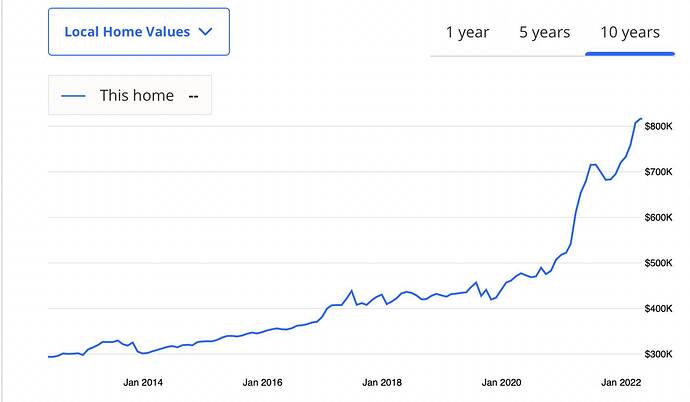 From my realtor, prices shot up in Apr over Mar, inventory hardly change because supply and demand drop at about the same rate (@SVRE takes note, don't just look at demand).



A SFH in my community that closed recently.
Listed for $1.299M
Zillow estimate $1.397M, Redfin estimate $1.337M
Sold for $1.575M in May
If above is the trend, avg prices in May would be higher than Apr (ofc higher than Mar).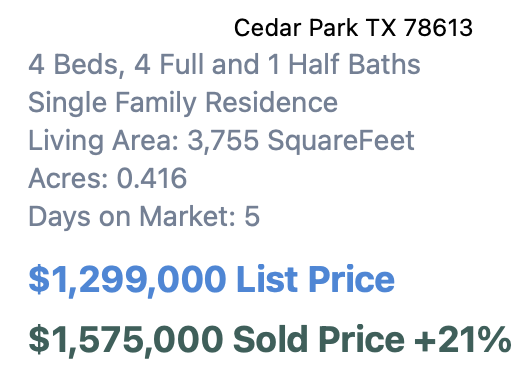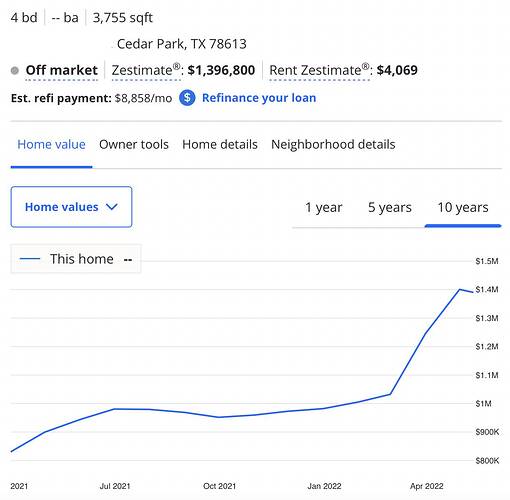 Month to month data is hard to interpret. Let's see what the situation is in Spring 2023. If prices are higher than spring 2022 or lower….
.
The data show is yoy and sequential. Yoy price appreciation is already slowing significantly. It is possible that it could go negative in 2023. But doesn't mean price would drop by more than 20% from ATH… recall that is your view… think you mean in SB and not Austin

There are two views on future of inflation. One camp says would stay elevated for years, another camp says would rapidly decline to 4% by end of the year.
That's right. I was referring to South Bay, not Austin. I don't know enough about Austin RE market to comment.
I don't know much about South Bay market either, but my guess is that since home prices went up 50% or so in past 2 years (post pandemic), they are likely to fall about 20% now that interest rate is rising. Kind of a reversion to the mean
Austin is still the best economy and job market in the world. Our own news feed is part national news and part local Austin news. This feed is pretty bipolar, as national stories focus on a potential recession while local business headlines are comprised entirely of incredibly positive news for the city of Austin. The buyers who choose to sit out this year will likely enter the market next year as rent increases and they continue to be dissatisfied with their rental. Sellers who sit out this year will enter the market next year as their "too-small or too-big home" they're currently in is still too small or too big for them and they come to terms with higher interest rates. In short, Austin's real estate market will hum along this year and then return to its "scream along" status next year.