Just a few hours into business, it had to shut down in the afternoon because of overcrowding…
The shopping frenzy could be a result of the heavily discounted membership fees Costco offered to promote its opening. It costs 299 yuan ($41) annual fee to be a "gold star" member in China's Costco, which is known as kai shi ke (开市客) in Chinese. That's $19 less than the Costco's membership fee for the same category in the US.
they will buy 1000 items today and return 999 items after 2 years.
Only in China will you see Costco selling $14K USD Hermes handbags. Not sure about its return policy…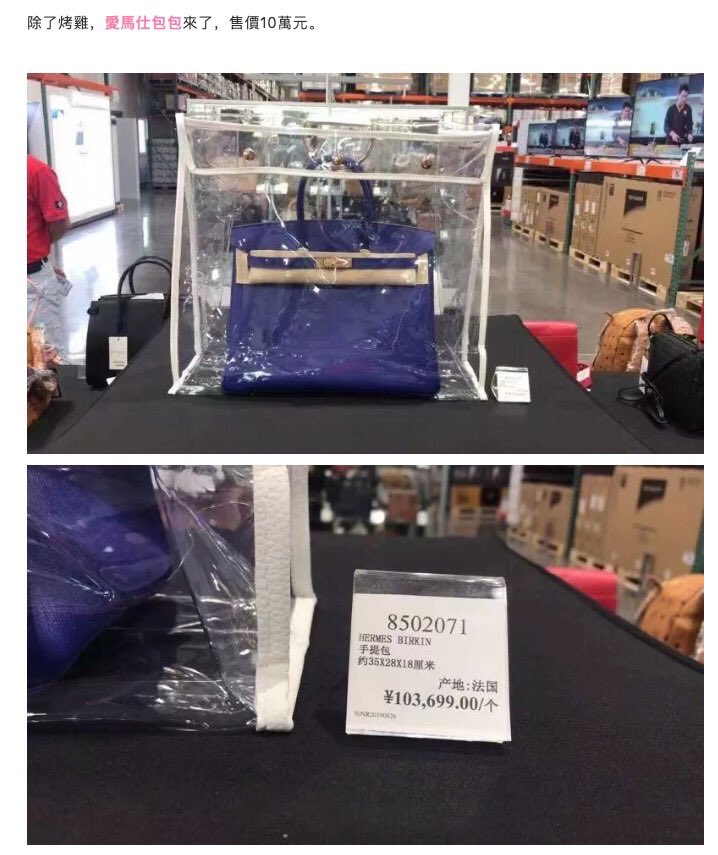 will return 6 months later when new models come out
eat one bite of chicken and refund

refund membership

What do you guys buy at Costco?
Increasingly my cart is less and less since I just don't know what to buy. I buy tp, paper towels, dishwasher pods, and laundry detergent. Not a lot of seafood since selection is limited. I still buy a lot of alcohol there but I can only drink so much!
For groceries, I get from the Asian markets mostly, lots of random stuff on amazon, and that's about it.
Beef tenderloin/ ribeye/ New York
Water
Green tea
Spinach, carrots, mixed veggies, mushrooms
Milk
Eggs
Macaroni/ lasagne
Chicken strips
Pies
Gasoline
TVs
Furniture
Batteries
Toilet papers
Paper towels
Cleaners/ detergents
Rice
You forgot the most important news:
hahahaha. shxt…well, really though
Costco is my primary grocery store now. It's worth it just for that.
I buy everything @hanera does except for the TVs and gasonline. Don't know why he needs to buy a TV every run. but considering how many houses he has, it makes sense.
btw we do a Costco run every 2-3 weeks and our average bill is $300-$400. And I am not buying alcohol or candy or whatever.
So low? I go twice a week, about $200 per trip (not including gas).
Usually lowest price in town and 4% cash back. You get better deal elsewhere?
Avoid pre-packaged and processed food. You will save money.

plus we buy some stuff from foothill produce. They have much better fruits.
Drive an EV. don't need gasoline