Received an ad in email from a hard money lender. The numbers may serve as a real-life example.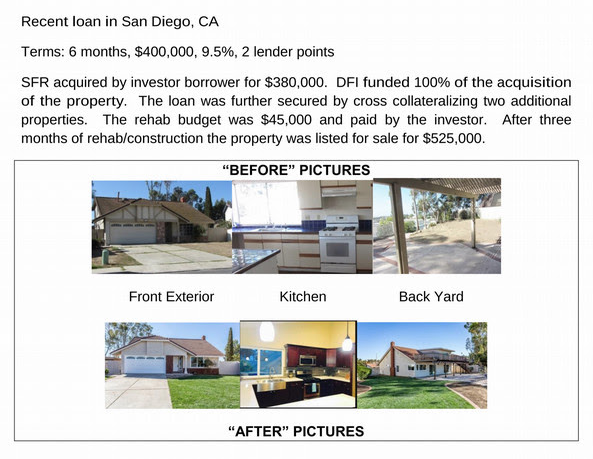 Selling price would have been good info to have.
OMG… Some houses outside of BA can be FORECLOSED. Hard to believe

https://www.zillow.com/homedetails/6303-Kimmy-Ct-San-Diego-CA-92114/17090814_zpid/
They left out the LTV info.
Interests cost: $400K x 9.5% x 0.5 years = 19K
Points: $400K x 0.02 = 8K
Rehab: 45K, assuming they finished on budget. Big assumption.
So even before sale costs it's already at 72K, bringing it to 452K.
Let's say they sold it for 550K, above listing. 4% commission = 22K. We still have all the other fees, taxes and insurance etc to cover:
Profit before taxes and insurance: 550 - 22 - 452 = 76K
I guess after all the other costs got included the profit would be around 50K. Even though if you just look at the price difference: 380 vs 550K, it looks pretty big, the profit is in fact very modest.
That was my impression too when i did the numbers like you did.
The hard money lender made $27k and the realtors $22k or more…That is why I lend hard money…lot easier than flipping with little effort. .
Uncle, can you spare a dime?
I only loan thru ACM, out of Larkspur
There are foreclosures available in San Diego. Many of the properties are below their peak prices from 2006/07. Here is an interesting flip. Because of the lower sales price, The flipper may not have needed a loan.
And here it is pending after the flip.
It looks terrible before the flip but if you are replacing everything that doesn't matter.
How does it work with ACM? Do you get a set return or is it a 2 and 20 set up? What's the lockup on your cash?
ACM is a broker…Your name is on the lien, along qith otherlenders on the note …They charge points to the borrower and get 1% …for example as a lender you get 8% and they get 1%… … .They handle the foreclosure if necessary. .
Hmm, interesting. Obviously risky, but in your vast experience @Elt1 from doing this any major defaults or issues? So, let's say I have a few hundred K sitting on the sidelines with no fixers in sight, should I do this? Pros/cons?
Not risk free, but being a lender is less risky than being an equity partner/developer.
Underwriting guidelines should be conservative, so the risk of loss even with a default should be essentially zero barring a major collapse. In the example given three properties were used as collateral.
The downside is the loss of use of your funds. There's always the risk of fraud from the broker or the borrower.
Of course, I would rather be the bank than the borrower.
ACM takes 1 point only? Is this industry standard in the Bay Area?
Lender = 10%
Equity Partner = 40% during the up years
Developer = ?
All-in-one shop = ?
Equity partners are the only ones risking capital without a guaranteed return.
I've seen this type of "help" in the loan industry. They provide 1% loans to low income people, but the details I don't know much. I just know there's an equity sharing somewhere.
What has been your return with them? Is it worth putting some money into?
The risk depends on the property
Why would you like to try this route as you know stocks very well? There are plenty of considerably less risk companies, dividend payers are there ! You can easily manage to earn more than 8%