No money in the wine business unless you are Gallo. Small wineries will go out of business. More vineyards are being ripped out than being put in . I bought my farm at a discount because it had a pool and a vineyard. 2 things nobody wants anymore.
There is a huge wine glut worldwide. Millennials drink beer not wine. Things will be in a downward trend for five years. Then there will be a rebound.
No more wines, no more mechanical assembled sports cars, no more dipping naked in in-door pools, no more womanizing

Sold in 2006 for 3.3 million and now listed for 15 million?
Not worth 8m. Unless it is in Napa… Grapes are at historically low prices. If the estate is valued on its grape production it has limited value.
This sector is next to Napa with 37 historic wineries here. Garlic and other produces are also common.

Anyway, they struggle to survive and hard to get rid off real estate here.
This is one of the bests https://guglielmowinery.com/
Gilroy doesn't have name recognition like Napa or even Sonoma. My friend has a 20 acre vineyard in Dry Creek. Near Healdsburg. Prime location. But his Pinot noir grapes are sold to Piper Sonoma, for less than $1/#. Very little profit. Prime location, name winery.
Lodi grapes go for $400/ton. About a break even for machine farming. Nobody makes money growing wine grapes except a few Napa growers that get up to $25,000/ton for wine that sells for $250/bottle.
I know a lot of rich people. Not many drink $250 wine very often. 90% of wine sells for less than 10/bottle. That means most grapes sell for less than .50/#. About break even for small producers.
My grapes cost me about 1/#, not including capital costs. Just wine maintenance. The market is .50/# if you can find buyers.
Anyway the Gilroy property is just an ego ranch for someone that likes horses and hobby wine making. Limited market and limited value.
$15m is twenty times what I paid. I don't have the horse facilities. But the value of that infrastructure is limited… certainly not worth anything near the cost. As far as the vineyard the grapes look cool but they are not a profit center.
Yes, I agree this. Corona adds more pressure to sell these vineyards as they get into loss!
It costs $30k/acre for grape plants structures irrigation and install. Prime grapes only produce about 3 tons an acre. Maintenance is break even. So their vineyard that cost $500k has little value. Probably negative value do to the hassle factor. It is a business, wether it makes money or not. Same with horses. A facility that requires full time help.
Target is nouveau rich from Facebook or any founders of successful startups.
For $15m you can have your own paradise anywhere. I doubt if Gilroy is high on the list.
Who buys trophy properties in gilroy? It just doesn't have the right ring to it.
Doesn't Nancy Pelosi have a vineyard in Napa? How much is it worth?
This is what gets Russians excited. Wild mushrooms from an undisclosed location. These last rains brought them out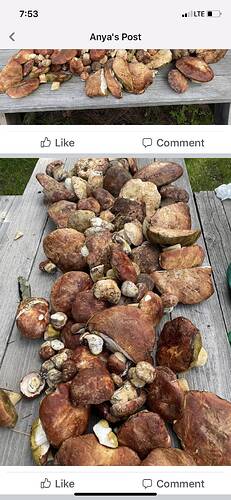 There is one man that is responsible for high Napa prices Andy Beckstoffer. He can get $25,000/ ton for his grapes. In Lodi, less than 80 miles away, $400/ton.
It has its own wealthy people, mainly from high-end rich business community spillover from San Jose/Bay area.
This area is known for farm houses, winery, mushroom factories, wholesale nursery (supplies to Costco). I have seen big trees (such as redwood trees) nursery sending supply to construction industry.
San Martin airport has full of planes, copters…etc. The home lots are available 2.5 acres and 5 acres like that mixed with farm lands and wine community.
Pretty weird house with an indoor spa and green carpet and roof deck that probably leaks. Beach front Tahoe with a private gate. These properties sit for a long time. Offer $3.5m
The house would need a ton of work. Definitely new roof. How would a flat roof would even do in a Tahoe winter.
Wonder what the value of beachfront is in Tahoe vs being on the water like other Keys homes.
$1-3m more for beach front. Beach front also has to deal with erosion which was huge in 2017.
Plus people can walk on the beach in your backyard. I personally prefer not to be right on the beach but on a lagoon with lake access. Plus most Keys Beach fronts have only one dock in a group docking area across the street. I have four slips. And no one is allowed in my backyard.