Please refer to the CU SFH below…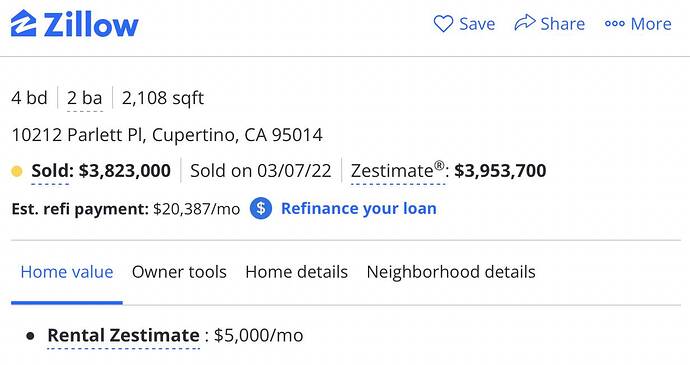 Link to interior,
Another one,
https://www.zillow.com/homes/19701-Bixby-Dr-Cupertino,-CA-95014_rb/19639009_zpid/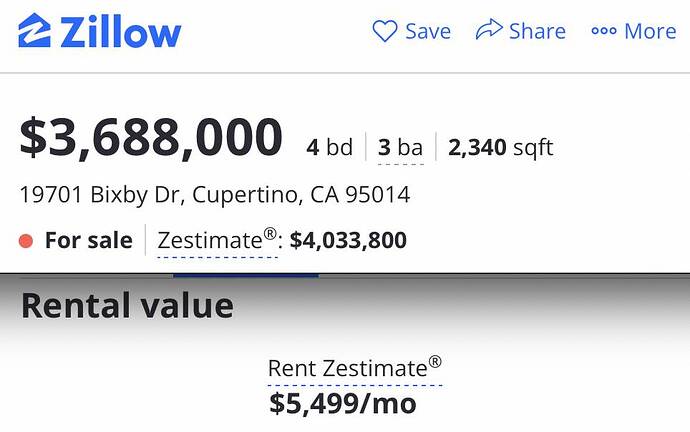 .
Your thought?
All this while mortgage rate crossed well past 6%.
I'm confused. SJ is higher than SF. This must be fake news.
This is Zillow Home Value Index regional data, i.e.for MSAs. This chart compares SF MSA with San Jose MSA.
.
He is referring to the debate of SF vs SJ.
SJ MSA housing price is generally higher than SF MSA, which includes large portions of east bay, while SJ MSA includes mostly south bay.
the report reveals that six cities, out of 50, actually have more new listings now than they did pre-pandemic (measured by looking at the average of new listings — properties on the market for 14 days or less — from Jan-Apr 2022 vs. the average for Jan-Apr 2017-2019). These cities are: San Francisco, San Jose, Calif., Seattle, Portland, San Antonio and Kansas City, according to an analysis by a mortgage technology and data provider Black Knight.
Getting used to the new norm. Historically 6% mortgage rate is not high. Prior to 2008, rates > 6%.
There should be a similar analysis on California
Maybe it's from here:
If not, there are lots of other interesting tax data available if one is into that.
Andrea Chop has no credentials. Hasn't been in the business long enough. The 70s are the best model for the current market
"​​When we look at the price of renting versus the price of a mortgage [in the Bay Area] this is the largest divide we see across the country. It's almost three times more expensive to pay for a mortgage than to rent, so we'll likely see rent rise as a result," Nicole Bachaud, an economist with Zillow, said.
Is about time. Need to increase rent 3x. I have been subsidizing tenants.
While the Bay Area may be the only place in the country where rents have not surpassed pre-pandemic levels, that's unlikely to last in the current environment.
So pathetic.
Bachaud said interest rate hikes are more likely to hit first-time home buyers in the region harder than they would in the rest of the country, forcing many out of the market entirely.
That's Fed way to help first time buyers to live below their means.
There is typically a slight summer slowdown in the housing market, but the past few weeks have been jarring. "It's like it just stopped. Buyers have completely disappeared," Chopp said. "Since I've been doing this, it's never been this slow."
Stopped?