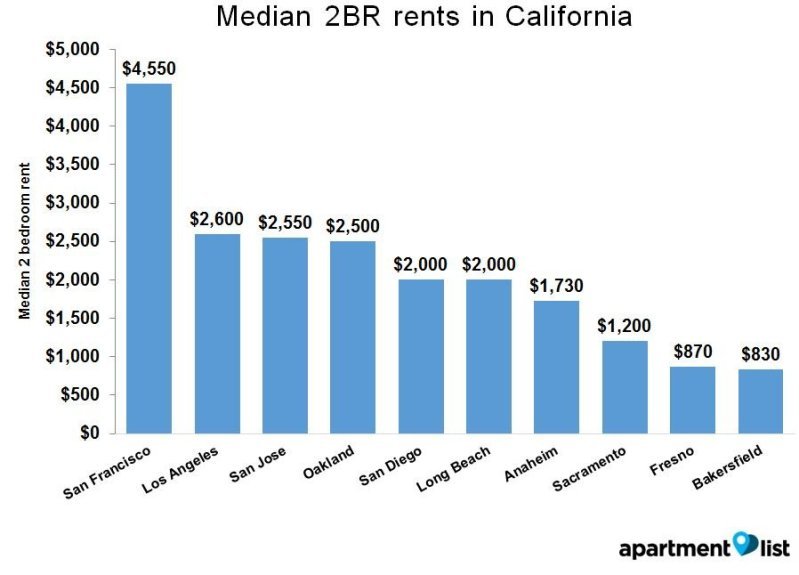 After years of painful increases, the cost of renting an apartment in most Bay Area cities has hit a plateau.
In San Francisco, the median cost of a 2-bedroom apartment was $4,550 in mid-December — still an inconceivable sum for most wage earners, yet down 2.5 percent from a year earlier. Likewise, the San Jose median of $2,550 was down 0.7 percent.
The Oakland median of $2,500, however, was up a modest 0.8 percent.
There were a few exceptions to the general trend, especially in a handful of East Bay markets where renters have flocked in search of something affordable. The result: The new competition has driven up rents by 8.1 percent year-over-year in Pleasanton, where the median 2-bedroom was $2,770, and by 6.8 percent in Concord, where the median was $1,900.
The median 2-bedroom unit went for $3,600 in Palo Alto, down 2.0 percent; for $3,440 in Redwood City, down 4.8 percent; for $3,040 in Daly City, up 1.7 percent; for $2,750 in Santa Clara, down 1.1 percent; for $2,390 in Fremont, down 0.5 percent; and for $2,300 in Campbell-Saratoga, down 1.4 percent.