This is hilarious, and true.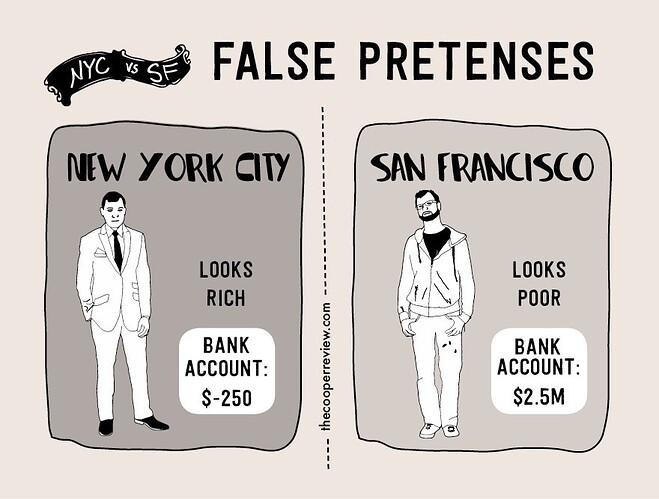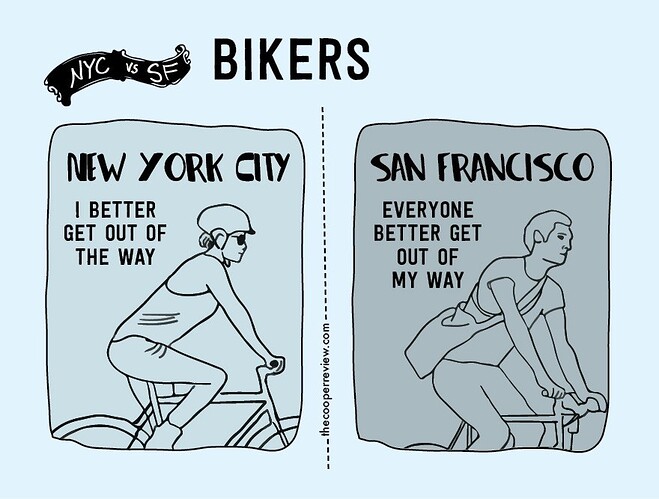 Don't miss Part 1.
Man, all my cousins are from back there. I equate NY to old money while we out here are now the leaders of the pack in most things like enacting new legislation to better quality of life. We are simply better out here. Period. Boy, they hate that…
I will only give it up to the Big Apple for one thing, you can get a fine meal at 3am on any given night. Here, SF shuts down by 10pm. Yes, I know all about the economics of it, but still.
I know it's a bit controversial, but do you agree the best Chinese food in the Bay Area is not in SF anymore? If you disagree please give me some pointers here. I am struggling bro!
Manch,
My big bro in SV would agree with you, that the best Chinese food is outside SF (and probably down in there in Cupertino or them parts). Yet, he has come up to the city often to not exclusively eat though but to partake in the decent places that we offer hereI must admit, we have fewer and fewer spots now.
We had a family dinner recently at R&G Lounge, which I believed up to that dinner to be probably the best Chinese restaurant in Chinatown if not SF. Well, it wasn't as good as I remembered from before. My wife, the food expert, agreed with me. She loves Taiwanese food and I guess we will have to check out that fancy dim sum place in Westfield down there that finally made it here to the Bay Area. Have you gone yet?
Now, granted, I don't venture down to parts beyond San Mateo for food too often so I can't definitely say that the Chinese food outside SF is that much better. I have heard that though. Yet, my nieces and nephews from outside SF still marvel at those San Tung chicken wings (yes, not pure chinese food but darn close to it).
Besides, isn't everyone eating expensive Japanese ramen now???
If I ever open a restaurant I will do Japanese ramen. What a ripoff!
Ding Tai Fung is pure madness. People line up for 3 or 4 hours to get in. I will go there, eventually, just to see what the hype is about. May have to wait a year to two for the madness to die down a bit.
R&G is super pricey I think?
It is, but it used to be darn good. They make a pan fried salted fish/pork pie that is to KILL for yet the irony is that even though it is on their menu to this day they won't make it due to the excuse that oh they are too busy. Come on!!! You want freaking what $18-$20 for this small pizza sized dish yet you won't make it unless you are not busy? When is R&G not busy? Sure, 3pm. Who eats dinner at 3pm???
Sorry…got a little too upset there
On the subject of ramen, that new joint in the Tenderloin is going crazy. Been there, yet? I don't plan to. My crack young hipster co-workers already gave me the review. Some say not as good as Ramen Dojo in San Mateo, which we love. Fine with me, I ain't spending no 20 bucks on top ramen, errr, japanese ramen…
Is that the new joint set up by some hot shot Japanese chef? What's the name again?
No need to wait, accept reservations.
I don't know:
bad area
bad parking
$20 noodles
Me, pass…
Yes! That's the ramen shop I read about on the Chron.
Boy, I need to speed up my plan to open a ramen joint…
I mean, right? Ok, you know why there aren't any more good Chinese restaurants around? Smart Chinese entrepreneurs figured out the profit margin on Japanese sushi places is much higher. When was the last time you went to a sushi place and they didn't talk chinese back there??? Yes, the sushi chef may hopefully be Japanese but the workers and owners are probably Chinese. Just my theory…
Not yet. Reservation is in June.
Um, won't you perish by then…

It sounds way, way overrated. I am content with Ramen Dojo in San Mateo. I think they raised their prices for a bowl of ramen to 11-12 dollars min. I am sure some old school asians are rolling in their graves hearing that people are:
willing to go to the Tenderloin for food and
fight traffice and find parking (they dont have concept of uber yet)
then wait for another 3-4 hours potentially…for
a $20 bowl of noodles that cost a few dollars if that to make
Cha-ching baby! Forget real estate, Manch! Time to learn how to hand pull noodles…
Do they even do that? Some Chinese shops hand pull their noodles but they surely don't have people lining up for hours. Japanese shops are chic and Chinese ain't.
I think Tenderloin has some decent Vietnamese restaurants, does it not?
I don't venture into the 'loin too often. I stick to Kevin's for pho every time.
Oh man! Those are TOOOO funny!!!
My favorite Chinese, honestly, is in Boston.
Not too surprising, my RWC sister lived back there when hubby was doing his residency research and they loved it back there. Probably would have sold their RWC home and moved back if not for extended families.
I am sure you have heard that Vancouver though is the place for Chinese food.
Totally serious! I don't love Boston, but I really have to say that the Chinese food was great. Soooo many place to choose from! You just learn to avoid the bottom 50%