How to play the rise of mobile payments ?
SQ? PYPL?
V/MA ?
Something else?
AAPL because Apple Pay would dominate


Other than SQ, PYPL, got Stripe

Zelle.
I like stripe but it's not public.
Adyen is available otc but I don't know much about it .
The big banks run Zelle.
Does anyone know if the daily allowable transfer amount for Zelle can be increased by any kind of authorization? I hate it that my tenant has to pay the rent in two parts.
More than $5000? Mine is one transfer.
Princess, what is your opinion? I have 400 SQ, should I keep or sell? Add? What about STNE? Got 100.
Nope, under $5K. That's why I am wondering why the need to split it (don't believe it is a financial issue). Now, does it matter by bank? They are with BofA coming to me at Wells. I have BofA too but hardly use that account.
Flashback two years ago I thought about buying SQ under $10, but decided not to because I was convinced that Apple Pay would eventually eat their lunch (big mistake - should have stuck with my usual 52wk low strategy instead). To this day I still don't understand why Apple is not monopolizing the payment processing cycle. If they don't want to develop their own payment terminal they can easily acquire a smaller shop such as Revel for the POS system since it's based off of iPads.
Don't know much about STNE, but it's clear that Buffet is gambling on Brazil prevailing from the constant political and economic turmoil.
What I heard is Jack may be overpaying for customers acquisition. Some said is not sustainable.
What's up with Apple Pay cash? What is it?
Brazil is a basket case. Avoid at all costs.
No idea. My guess is Apple focuses on the consumers, prefer to work with business enablers. For example, I notice many restaurants uses iPad but the business software for selecting dishes and payment is not from Apple. Apple Pay is only one of the PoS method.
Square has one of the most beautiful Investor Relations site around:
I just listened to their outgoing CFO gave an interview on Citi's fintech conference couple days back. Very good stuff. Only negative for Square is them losing Sarah. Dorsey should just give the reins to Sarah and sit behind the scene to collect money.
A fast-growing, lucrative market is not only attracting Square, but larger financial firms too, including Intuit and Capital One Financial , which have their own value propositions for merchants. Then there's PayPal Holdings which recently spent $2.2 billion to acquire iZettle, a point-of-sale solutions provider for small merchants across 11 international markets.
I believe Square would be a good investment at a lower valuation, but for now I would wait for better prices before buying shares.
How low the author didn't say. $35?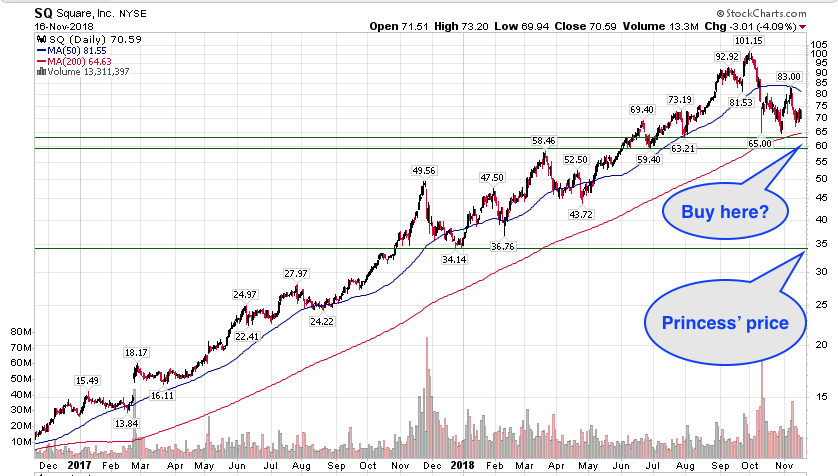 No need to worry about Apple since Apple won't compete with B2B companies nor provide B2B services, and prefer to work with B2C enablers to deliver delightful user experience.
Square market cap is 30B, Paypal about 100B, Mastercard 200 and Visa almost 300.
I am listening the a Visa guy in the same Citi fintech conference. The guy is a bullshiter unlike Square's Friar.
Buy now or at what price? I thought $60 is a good price. Your view?
Wait for uptrend I think. Still milling around without direction.
Also read some of Square's shareholder letters. They have one every quarter and is very, very well done. Listen to Sarah Friar's interview is also very helpful. Helps me understand the strategic directions it's going.
I listened to Sarah's interview, but wasn't too impressed by it. The pain points she mentioned were lackluster and she made it sound like SQ disrupted the industry, when a solution has been around for a while (example: Xero). Maybe it's more of a branding issue.