This chart from the Economist shocked me: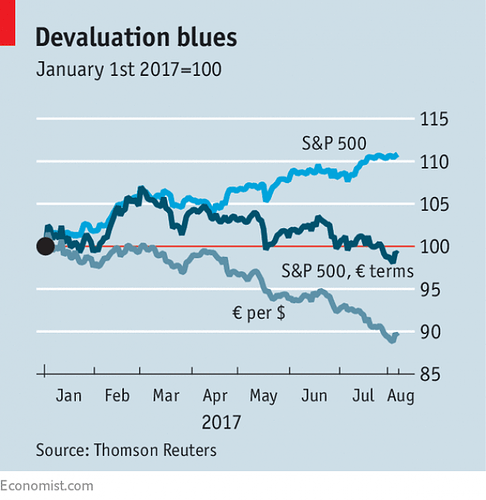 In euro terms, the market peaked in February. In dollars term it's going up partly because US dollar has been heading down big time. All this while I thought investors didn't care about the Trumpster file, that they were cool with all the ill-fated promises Trump made in deregulation, infrastructure, health care reform, tax reform etc etc. But it seems investors did care, and have been driving the dollars to the ground.
This currency shift puts the stockmarket rally in context. In dollar terms, euro-zone equities have easily outperformed Wall Street this year. Or, to put it another way, in euro terms American equities have fallen (see chart).
American investors won't mind about that; they are still enjoying strong gains. But some of those returns are the result of a weaker currency, which means that the foreign earnings of multinationals are worth more in dollars. And the strongest-performing sector of the year has been technology, which tends to benefit from global, rather than purely domestic, growth. The yield on the ten-year Treasury bond is lower than it was at the start of the year—a sign that hopes of faster growth have cooled. In short, the stockmarket may be up, but not for the reasons that investors had expected.