What's going on Dragon boy??? Apparently we have a Breaking Bad situation down in Sunset!!
Yeah, the last thing I need is my wife to be texting me all morning when I was working… WTH, we dont do drugs at our rental, wifey, OK??? Can I work now??? You know, make that green that pays for the bills??? Yeah, goodbye!!! Sheesh
Come on…I was expecting to see an OVERBID!!!
let's give the new 82000 unit to all homeless people. SF would need to invite more begger to fill those unit.
Uh, maybe we need more cops??? So lame… get me out of the Fab 7x7!!!
Not exactly Sunset but close.
That is not a bad profit, for what, a year???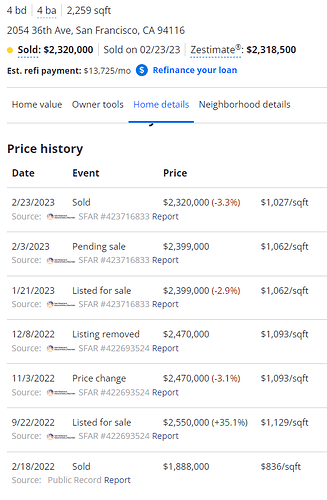 https://www.zillow.com/homedetails/2054-36th-Ave-San-Francisco-CA-94116/15116304_zpid/
Given the amount of remodel put in, the actual profit probably isn't great.
$430k price difference isn't that much. If remodel only took $300k, then with sales cost, holding cost, architect fees, permit fees, other fees, the flipper should be happy to not lose money.
Agreed, but considering the prior sale price of 1.88M, I would think there was minimum remodeling done.
Unlikely it was like that in the previous sale. If you look on redfin the previous sale didn't look like a regular sale (probably not on MLS).
Ok, $415K over asking to $2.41M!!! Come on, yes, remodeled but what is so special with this one??? Remember, this is Ocean Beach, not Malibu Beach… (LOL)