The charts are bearish.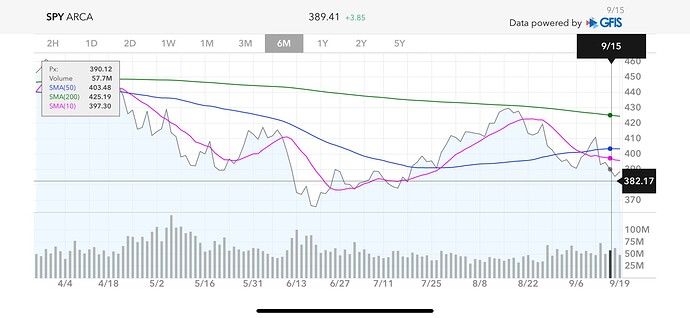 The SPY and QQQ both say go short or stay in cash unless they break above the 10-day.

Now, you see why I said "Lot of Assumptions" => like Institutions are buying…etc?
Remember this => As retailer, we never know who sells or who buys, but we retailers are no match to when big funds/institutions, they have full power to kill retailers, they are main makers and breakers of market with multi-billions cash/asset level.
The best way is not to fight with FED, either bull side, nor bear side.
The easiest investment ideas to retailers, Just stay cash when FED raising rates, but put all in stocks/etfs when FED is dropping rates hold long.
Also remember why so many calculated we are in 1-A-B-C of EW.
New lows.
META MSFT GOOG NVDA
S&P touched below Jun 16th ! Hi Hi Hi…!
.
Are you saying financial advisors are fools?
Gas prices are dirt cheap in Austin.
Regular 87 $2.9
Premium 93 $3.4
TSLA down 13% in 3 days!
But still trading higher than my last purchase price. So no BTFD.
Are you making money from it? I've never been as much short as I am now. We will see if it's right, but taking out the low from June is bearish.
The truth is they are intelligent enough to fool us ! Never trust a financial advisors, they make money by commission. Financial advisors are famous for commission eaters.
They are good for those who does not have time to devote on investment or personal finance.
SQQQ is up 6.42% today. My December puts are up 14.72%. I bought pretty deep in the money too, so the time premium was tiny.
SNOW and RBLX also closed green. And NVDA was green in the afternoon for a while but couldn't hold on. A lot of charts look like this: lots of buying volume in the afternoon: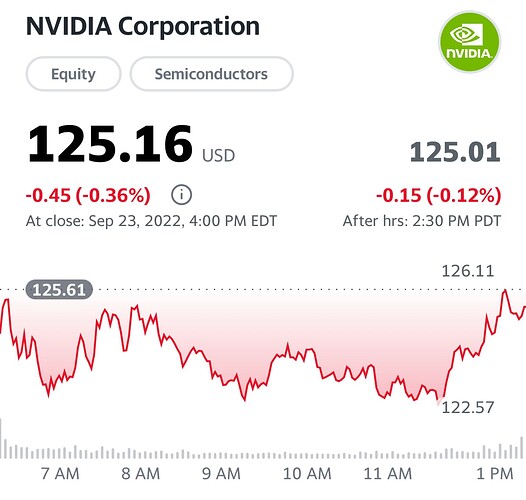 Also closed green: UPST and PLTR.
Meanwhile, VIX is increasing.
After hours won't give any indication. At this stage, we can not judge anything what will happen on Monday.
If big funds (holdings billions) decided to sell their holdings, they will show appx Monday regular hours. They only decide all market fluctuations.
Inflation is terrifying to most people.
This means seller must be like Elon Musk or high TSLA insider. They can only bring down TSLA stock price within 3 days. Watch TSLA Sec release within 5 days we may know who it is !
Many rumblings of global recession. Which nation is not in recession? Use old definition of consecutive two negative GDP.
With global recession, a lost decade for stocks? S&P goes sideways just like the 70s? Is

for DCA purchase of S&P intended for inheritance, not so good for shorter time frame investors.
However, there is always a bull market for certain stocks. The next 5-10 years, you would know whether you are a good stock picker, I hope I would be lucky a second time, stumble on another AAPL

In the 70's dividends were at about 8% They're never as volatile as share price. If you live off dividends and not trades the effect of these bear markets is muted. And if you're not yet retired and still accumulating shares through your 401k or IRA than bull markets are the last thing you want. You want to DCA into cheap or at least modestly priced shares, not expensive ones. I've never understood the fetish over bull and bear markets. Or housing for that matter. People feel rich if the wood and concrete they shelter in goes up in value even if they had no intention of selling. And if they did than the more desirable area they want to move to likely went up the same if not more. It's all relative.