After hour has been pretty quiet.
That's fine, @myo. You can be THE ONE cashing in on otherwise GREAT news…
Ok, @Jil, at this much more reasonable stock price than Amazon, which would you go for still? Facebook or Amazon???
When the expectation is too high, that is what happened. Have been observing AAPL for many years, same thing happen when expectation is so high going into earning, any result is not good enough, and everybody who bought in hope of outstanding earnings sell.
FB was above consensus estimates on all metrics!!

Facebook Inc Drills Q3 Earnings, But FB Stock Yawns
Source: Via Stock Snap
Only half of that was true this time around.
Facebook boasted a solid beat on both the top and bottom lines, as well as user count. Yet Wall Street isn't impressed, and Facebook stock is essentially unchanged in aftermarket trading.
For its third quarter, Facebook earned $1.09 per share of FB stock on revenues of $7.01 billion, up 56% year-over-year. Both topped Street consensus views for 97 cents per share and revenues of $6.92 billion.
And despite Facebook's scale, it still managed to beat its monthly active user (MAU) expectations. MAUs came in at a staggering 1.79 billion, topping estimates for 1.75 billion.
Daily active users rose to 1.18 from 1.13 billion last quarter, and up 17% year-over-year.
Consensus numbers are not the numbers. Some phony numbers that can be found only in blogs. I don't follow FB so don't know what are those phony numbers.
So there goes my 2 biggest positions FB and AMZN…

Seriously, whats going on with AMZN and FB, I read somewhere AMZN could hit 690

That's what happens when stocks run into the earnings. Honestly, I'd be willing to buy more AMZN and FB. The fundamentals of them didn't change. I'd have to check to see what point makes sense to buy. The whole market is skittish right now until after the election.
Agree, just have to have enough cash to buy low.
FB is down because they warned that ad growth will "come down meaningfully."
They are smart enough to diversify away from ad revenue. I don't think people realize there's a somewhat fixed ad revenue pie. All these media companies that are rapidly growing are doing it by taking market share from others. At the end of the day, Facebook, google, snapchat, twitter, etc are all media companies not tech companies. Their revenue is from selling ads. They just happen to sell ads on a tech platform. There's still a relatively small limit to total ad spending. Consumer spending is orders of magnitude bigger. It's better to sell products/services to consumers.
I think Facebook will actually make that transition. I'm not sure about the rest.
Who's buying more FB or starting a position in it?
I'm ready to buy a snap phone that is physically unable to save photos by hardware limitation
Advertising has been about 1% to 1.4% of US GDP for 100 years. So it's not flat, it's growing with the GDP.
http://www.bloomberg.com/news/articles/2014-03-03/advertisings-century-of-flat-line-growth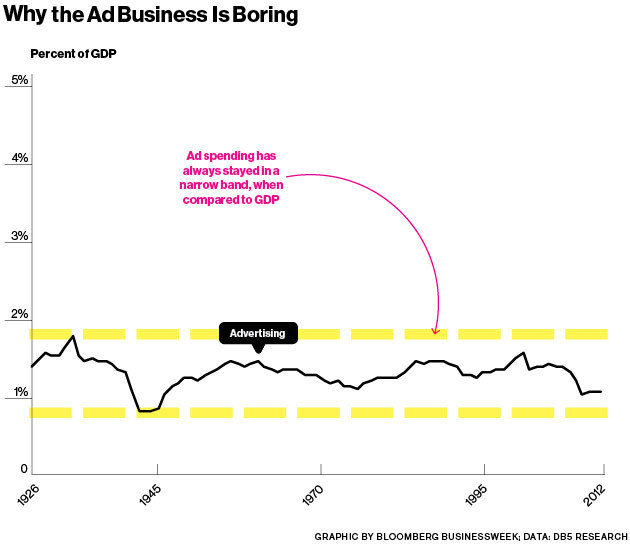 US GDP is about 18T. So 1% is about 180B. That's just US alone. Worldwide GDP is about 110T. 1% of that is 1.1T. That's how big the advertising market is potentially.
There is still a lot of ad money spent on old media like TV, print, billboard etc. As people spend more and more time and attention online there is no reason why ad spend doesn't follow the eyeballs. Facebook etc still has a lot of runway ahead of it.
Uh oh, that looks and smells like a buy order recommendation for me if I ever saw one…

So ad spending is even less than I thought. I ball parked it at $500B/yr in another thread. What is the market cap of all the ad revenue dependent companies?
Google $531B
Facebook $344B
Snap $40B
Twitter $12B
If you add up the smaller others, then it's not hard to get over $1T of market cap just for tech media companies. Then you have all of TV, radio, print media, etc.
Consumer spending is 70% of the $18T GDP.