did a small investment in BNGO (gene mapping company). Their product proved to be better than cathie invested PACB ( gene sequencing). Some say both compliment each other. Even ARK is interested,
CRSP and NVTA are holdings of ARTG.
IMO, better than going to individual small companies in drug/research area. ARKG has full clout on those companies with 10% holding, they can dictate terms, appoint directors…etc.
Make sure you draw EWT on ARKG and get into buying position.
@hanera did you check $BNGO? I just sold today at $7. My avg was $1.98. They have a conference on 11th.
Didn't. Only noted you said you owned BNGO

Today, I open position in PACB, IOVA and NVTA. I noted almost all genomics stocks rally today. May be, traders are shifting to genomics stocks.
Saphyr is said to be better than PACB product.
@Jil old flame before he dumped it for the hot new chick, MRNA.


From @manch newfound love, Cathie Wood. She says these are hot for the next five years. So I buy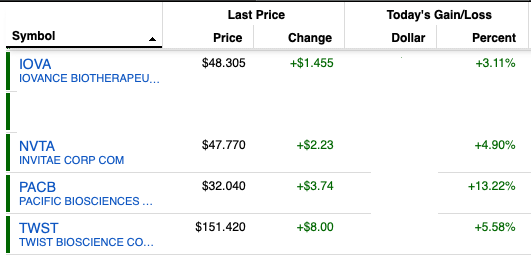 Yes, I have/would be dumping some tech stocks to go into Genomics stocks. The next frontier

So far,



Step aside TSLA and MRNA. Genomics is the next big time.
TSLA +7%??? CRISP +18% PACB +18%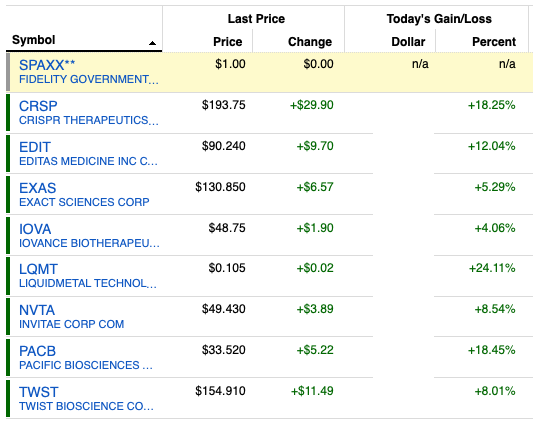 Is it not peak in RSI? When to buy this?
They are going up as they may participate JPM healthcare conference on Jan 11th,13-16th, the presentations are marketing for companies.
Short-term picture: There is a hidden bullish divergence from Monday. Now is bearish divergence. RSI is slightly overbought. Didn't do any EWA. Let's how it goes. Just like TSLA, Cathie has been selling CRSP even though she said it is a top 10 stocks to buy for the next five years. The list is:
Descending order:
TSLA
NVTA
SQ
ROKU
CRSP
Z
TWOU
TDOC
TREE
PRLB
I only started buying genomics stocks in the list. Didn't buy any of the tech stocks. I will think over the weekend whether to replace some tech stocks with SQ.
For genomics, other than the three, I look through the ARKG and buy some of the promising ones.
I want to buy ARKG too but haven't decide use which accounts

I prefer ARKG as this is maintained by them, just bought one share to watch.
Short-term picture: There is a hidden bullish divergence from Monday.=> JPM conference presentation, companies project all in-line projects, scope and future…etc.
My view is study of price behavior peers into what participants are doing.
Normal technicals + Intermediate degree (& lower) EW = Traders' viewpoint
FA + Primary degree (& higher) EW = Investors' viewpoint
Since both are just viewpoints, they can be wrong

So if you want to be sure, do your own FA

Did Mr Market influence by Cathie Wood too? Just started to build the genomics portfolio and every stocks shot up by 10% daily e.g. PACB, yesterday 18% today 9%. FOMO add?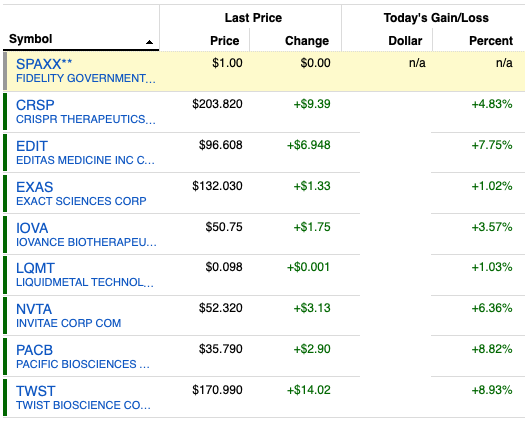 Cathie team itself capable of bringing the price up as they have billions !
If you trade, feel free to use EWT and go behind stock price.
If you are investing, do fundamentals and buy at peak low, hold forever.
Biotechs are common for crazy drop and crazy hikes in a day.
Curious what you have seen to make you invest in IOVA and TWST - I know several people at both companies…
Just following Cathie. Fundamentals are irrelevant in this market. Just go for the obviously hot stocks. In normal market, following crowd is usually not a good idea. In this market, you must follow the crowd.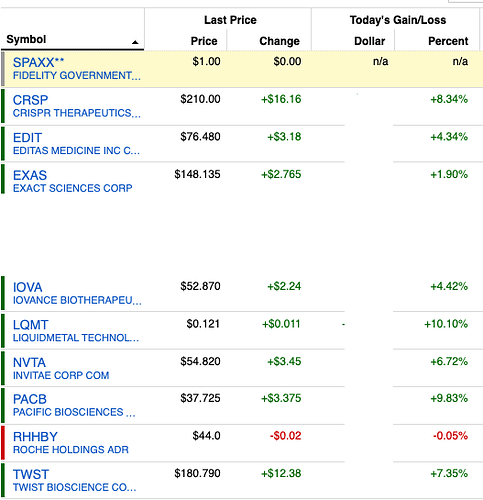 Did you get any?




My biotech sector is over with BNTX & MRNA, no further look out for new ones.
Let me monitor for CRSP and TWST, as both are at peak now, to buy some lotto calls during a dip !